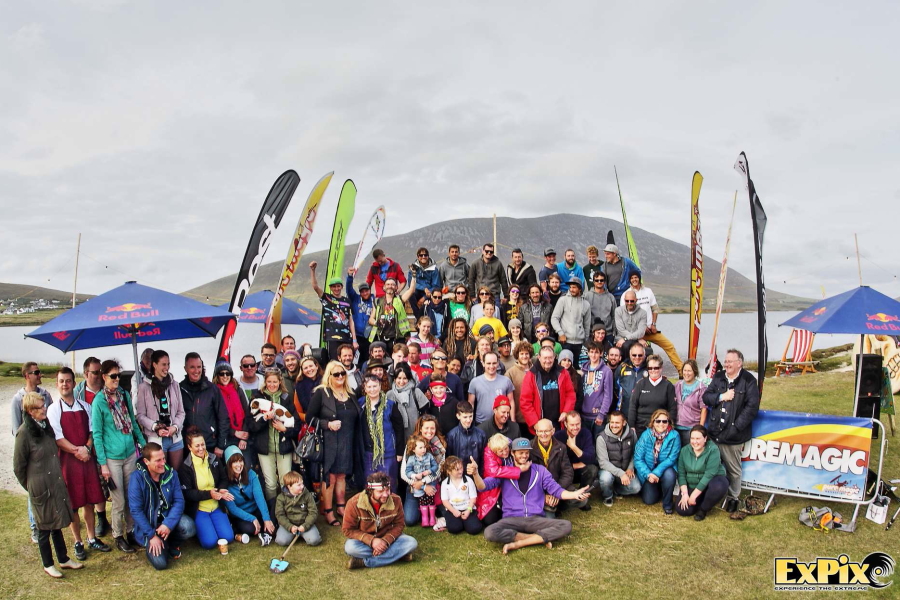 Dreams know no boundaries; have no limits; so chasing them can be costly. When the team at Pure Magic in Ireland had an idea to expand the Battle for the Lake event into a full on kitesurfing and music festival, the challenge was on to make sure their vision didn't end up just another 'pipe dream'.

Put on a kite event and you can get away with a race crew, beach marshals and judges but turn that event into a festival and you're talking about full on builds, sound and lighting, health and safety, security, etc, etc, etc; it takes things to a whole new level.

After months of planning, the team worked until late into the night on Thursday getting the festival site ready. Taking inspiration from the Nevada 'Burning Man' festival but adding their own twist of Irish and French influences; the Pure Magic team laid on a cultural and sporting fiesta.

Whilst the festival site looked great and the music throughout the weekend was amazing, they did nothing to appease the wind god, who despite luring people from afar with a perfect forecast, preferred to tease riders rather than deliver on a promise. Kitesurfers worked hard to make the best use of the light conditions, especially in the Ladies and Pro Freestyle comps.

Reigning pro ladies champion, Tereza Simonova did well to retain her title. Battling the wind and her arch nemesis, Catherine Etienne in a tightly fought final, Tereza proved she is a force to be reckoned with. Standing triumphant once more on the Battle for the Burning Lake Podium, Tereza's skills paid off.

And proving the Irish have all the luck and fresh from his British Championship win, Sean Murphy went on to take his second kitesurfing title of the year as he was crowned King of the Lake. Beating all comers including French kitesurfer Antoine Clerc, Sean did his sponsors proud as he claimed the win for Ireland.

It was a good show from the Ams and Juniors too. Riding well ?????? took the win in the Juniors with ????? taking the amateur title.

With the freestyle comps over, Sunday was given over to racing and a Best Trick Fancy Dress competition.
With many of the competitors at their first competition it was a great opportunity to introduce them to an informal race structure even if they were riding twin tips. The juniors seemed to take to it really well with James Tidmarsh, leading the way and taking the overall prize. The best trick in fancy dress went to Sligo legend and previous Irish Champion Eamon Armstrong who somehow managed to to an ariel trick and grab his kite, we're not sure how but it was impressive.
So with competition and some fun stuff all done it was time for the presentation and closing ceremonies.

Full Results:
Freestyle Kitesurf Comp
Juniors
1. James Tidmarsh
2. Darragh O'Brien
3. JaKob Stack -Kral
4. Bill Demary

Amateurs
1. Thomas Barrett
2. Alex Niznik
3. Padraic Doherty

Ladies
1. Tereza Simonova
2. Catherine Etienne
3. Olivia Catesby

Pros
1. Sean Murphy
2. Charles Harin
3. Eamon Armstrong


Kitesurf Racing
1. ?James Tidmarsh

Best Trick Fancy Dress
1. Eamon Armstrong
The full galleries will be online as soona s we get back to base around 3/4 Oct but here's a few to be going on with, Enjoy!