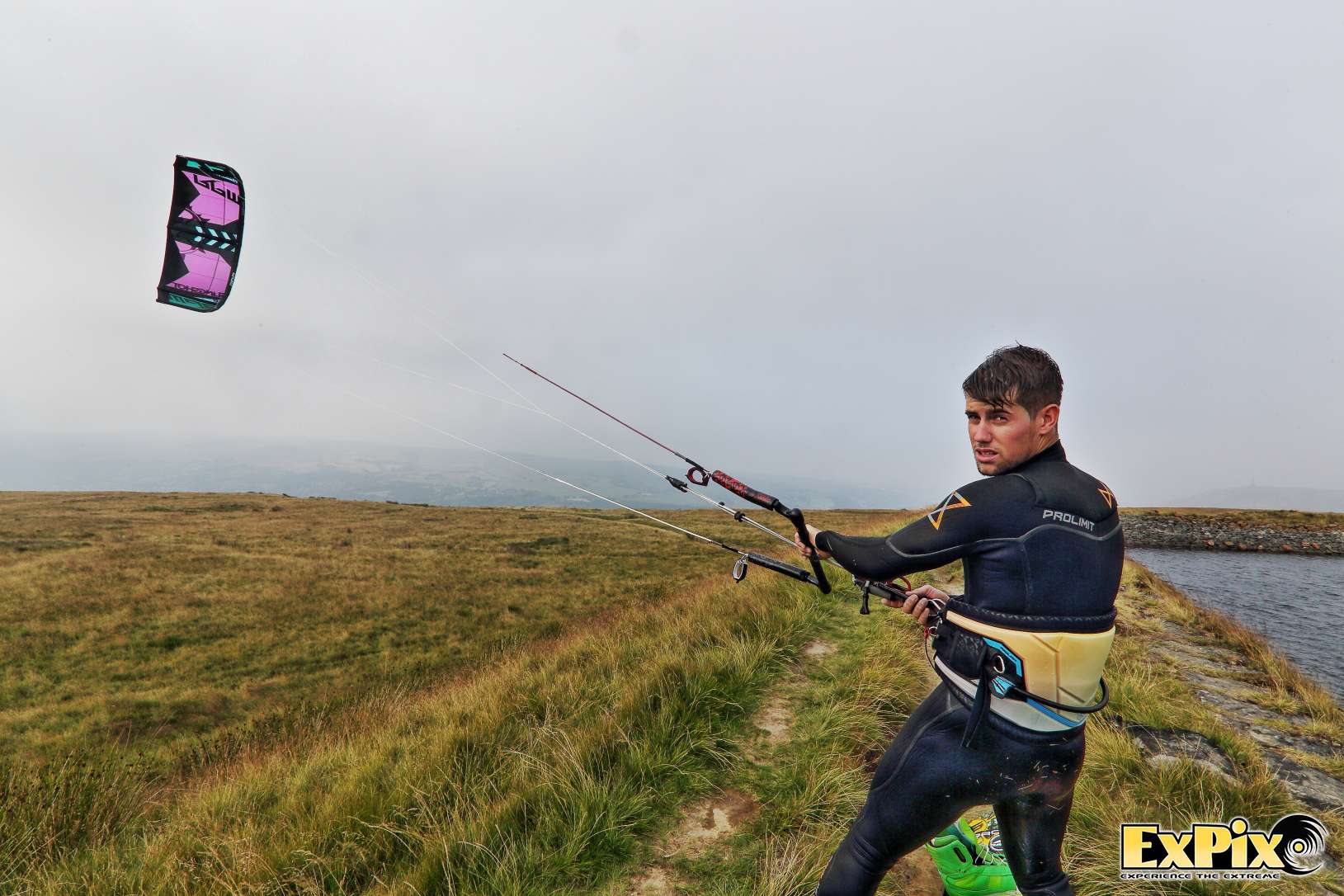 Late last summer we received a rather anxious phone call from Johnno Scholte, a kiter we know from the Netherlands. Visiting the UK with his girlfriend Amy, Johnno was getting desperate to kite, and knowing we lived near Amy's family, he rang on the off chance that we would know somewhere close by with wind.
But conditions were light, and with the forecast was pretty sketchy for most of the Northwest and with the coast too far away, it wasn't worth gambling on a trip there . So instead we met up with Johnno just after lunch and took him to one of the reservoirs near to Rochdale. Watergrove Reservoir in Wardle is used a lot by windsurfers but we've never seen any kiter's on the water. Whilst there was wind, it wasn't enough and we could see Johnno's frustration growing by the minute.
So we had a chat and discussed the only one other place we knew nearby that could possibly work.

Used a lot by the locals it since it was built in 1830 as a place to relax in the summer instead of going to Blackpool, Skegness, Scarborough or Hollingworth Lake during the Wakes Weeks (a week long period when the mills closed and the workers had a holiday); this little known secret is about 35 mins drive and 12 miles away.

Claiming to have the highest beach in the UK, we knew that whilst conditions may still be borderline, the position at the top of the hills meant that the wind would be uninterrupted.

So a drive out of Rochdale into Todmorden at the bottom of the Pennines and up onto the Moors, saw Johnno and Amy becoming more confused and perplexed by the surrounding valleys, open fields and hills; "So…. there is a place to kite around here?" asked Johnno at the bottom of a 1/2mile trek up the hill to the lake …... Gaddings Dam.

The climb to Gaddings Dam is quite steep and as we made our way on foot up the side of the hill grazing sheep looked on perplexed at all the kit we were carrying. Unbeknown to us Johnno remained unconvinced; Amy told us later that Johnno could be heard muttering under his breath about there being no water here!

20 mins later just below the peak we turned round to view the scenery and saw the sign for deep water next to a grassy slope. Then we climbed the remaining 3m using the steps up the slope to reveal the lake.

And Johnno started to smile!
Check out the images below from the afternoon kiting on the Pennines

For more information about Gaddings Dam visit the website http://abelian.org/gaddings/