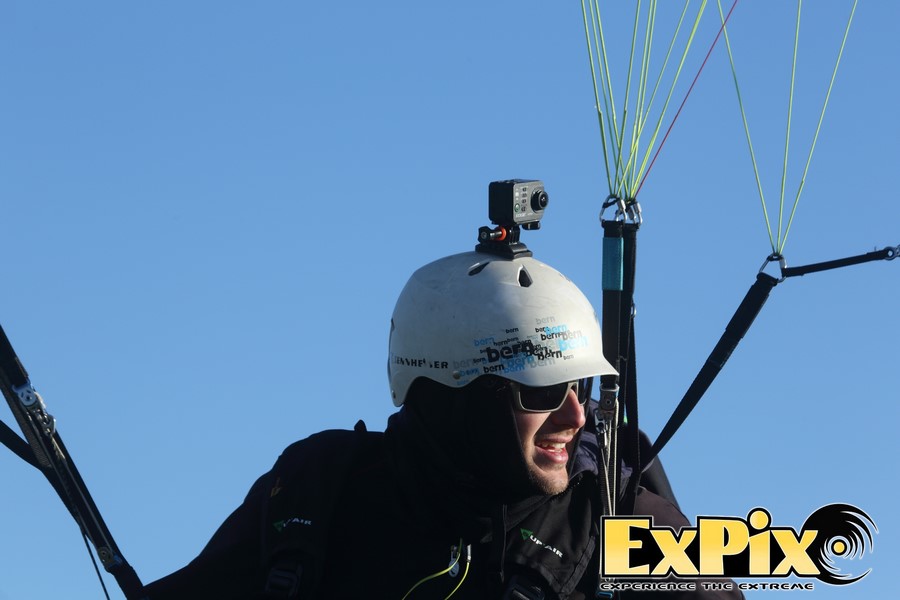 Dave Roberts has been a long time follower and friend of ExPix so we thought it was about time we took a look at some of what he does. We know Dave as a kite buggier and a crazy one at that. Having had several injuries, the worst being a broken back; he refuses to give up on his passion of flying kites, or just 'flying.' Here Dave tests a new wing at Long Mynd!
With some kit to test for Kitvision an EdgeHD30W action camera, we set off on an early clear crisp December morning to meet Dave near Shrewsbury for a day of paragliding whilst he demo'd the AirG Sophie 23 alongside the SupAir Acro3 harness.
All started well but as we neared the launch site on Long Mynd, in the Shropshire Hills, things started to get tricky. A severe frost has caused people to abandon their vehicles the night before and with black and sheet ice everywhere, the road to the top was extremely treacherous.
Inching our way up the hill was slow and painful. Front wheel drives are no match for ice, but our trusty Toyota Hi Ace ExPix van stood her ground as we broke a way through the ice with some ice picks, otherwise known as camper van levellers. After nearly 2 hours we'd made the 2 mile journey to the top.
At the summit things seemed much better, the sun had warmed the ground and although the wind was biting, conditions seemed good if a little light. After a quick coffee Dave rigged up and he was off!
Wanting a double view, we mounted the Kitvision Edge HD30W camera on Dave's helmet and stood in an open spot to film from the ground also. Within no time Dave was getting the lift he needed and was soon swooping in low before performing some of his more risky manoeuvres.
It's probably best to watch the video rather than us describing what happened, but watch out for the pendulum swings over the height of the wing!!!
Why not check out the pics as well below or go to the gallery section to see all the paragliding images taken at Long Mynd.
ExPix would like to thank KitVision for the demo Edge 30W and Dave would like to thank AirG for the use of the Sophie 23.