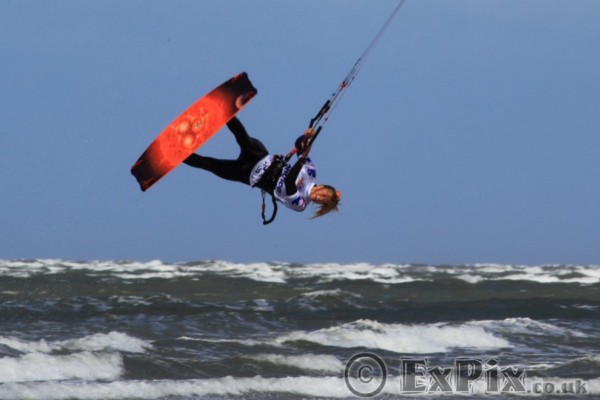 ExPix are stoked with team rider Hannah Whiteley's performance this weekend at the British Kitesurfing Championship held in Barrow.
Hannah made it to the final against Holly Kennedy and Nicky Rudd, but unfortunately Nicky was unable to ride in the final after damaging her elbow and bicep following a bad landing in the previous heat. So Hannah was faced with a tough battle with friend and fellow competitor Holly Kennedy.
Holly pushed Hannah all the way in the final but Hannah had the initial edge as she was able to manage the more difficult technical tricks which Holly couldn't land in the inconsistent conditions. However the end of the heat saw a reversal of fortunes as Hannah began to lose ground as the wind dropped.
It will be interesting to see the final results!
In the mens pro category this was the lowest entrance we have ever seen and was actually smaller than the womens fleet - a first in our ten years of following kite surfing. Whether this is a sign of the times or an indication of the styles of riding people are now choosing we are unsure. But Ned Taylor last years champion took on Luke Whiteside in another close battle.
With the riding finished by 1.30pm it was time for a free ride. To the backdrop of the wind farm of Walney Island, several spectators, early ams and juniors took advantage of the unexpected chance to take to the water to grab some practice.
So we've now got to wait 'till Sunday for the official announcement to see who the winners are but we are confident that Hannah has done well!