Well the Luderitz speed strip has done it and ironically it was the frenchman Seb Cattelan (aka Catman) who found the spot, that managed to break the 50knt barrier first. Seb had been talking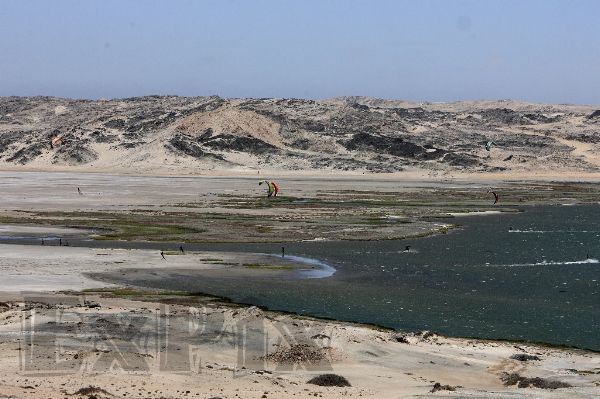 about Luderitz for some time and in Febuary we went to see what all the fuss was about...we're glad we did. check the story for more details on Luderitz and the NEW OUTRIGHT WORLD SPEED RECORD see if Seb managed to hold on to his 50 knot+ groundbreaking run!
Luderitz is a mere 17 hour drive from Cape Town and a journey that the speed kiters can make just for a weekend of kiting! We travelled with a small group from Cape Town and Langebaan that included the female World Record Holder Sjoukje Bredenkamp, Taro Niehaus, Murray Aldrich, a couple guys from the Best shop in Blauberg namely Bruce and Shayne. The idea was to meet up with Seb and a few friends from Sweden for a try at speed kiting.
Seb was up in Luderitz preparing the speed strip for this years event in September 2008. a full 8 months of sand bagging and making sure that the conditions would be as near perfect a possible.
After a 17 hour drive through the night we arrived at the speed strip to a steady 20 knots .... a good wind speed to start rigging and practice before the wind got too strong. Well that didnt last as the riders who were there started on 7's and quickly moved down to 5's (those that had them)
Seb on the other hand, along with Sjoukje and Lighty (Taro Niehaus)who are seasoned speedsters were moving onto 7's
It was hilarious watching the riders try and cope with the strong winds as they consisently managed to rack up top speeds of upto 40knots not bad for first attempts although there were some serious wipeouts!
Seb on the other handplaced me in the shallows and started a run for the camera. Now this was a stills camera, with no waterproof housing and a fisheye lens.
As he reached the halfway point on the strip he was behind me .... not a place I like kiters to be even if i am watching them but especially as they are trying to go fast, I moved back, SEB EDGED UPWIND, I MOVED BACK AGAIN ...... whooosh as he went past me I could have touched him, i certainly felt the sraft as he motored by. Then came the funny bit (foreveryone else at least) he came back to me to ask why I had moved.....I wont even write my response here! But taking him at his word ..... for the second run I stood my ground. he was so close as he went past I could hardly keep the camera focused, but we did manage to get a shot or two.
Back up to date it would appear the work Seb and the guys helping him (I only know about Hennie so apologies to anyone I dont mention) have done has paid off.
With American Rob Douglas breaking the outright speed record earlier it seemed like more records would tumble. Sjoukje Bredenkamp increased her womens World record and several other rider broke national records. Then on the 3/10/08 Seb Cattelan the founder of the LUDERITZ SPEED CHALLENGEbroke the 50knt barrier. Seb has said for a while that 50knts on a kite was easily achieveable and its no coincidence that he was the one to break it. After many hours, days even weeks searching for a spot capable of producing the correct conditions he found Luderitz.
So with his new record it took Alex his friend and the current world champion less than 24 hours to beat that record on more than one run.
So with a new OUTRIGHT WORLD SPEED RECORD of 50.57KNOTS Alex Caizergues is currently (there is still time left for things to change) the holder of the record.
Will Luderitz produce anymore record breaking runs?
check out lUDERITZ-SPEED.COM for the up to date news, images and press releases