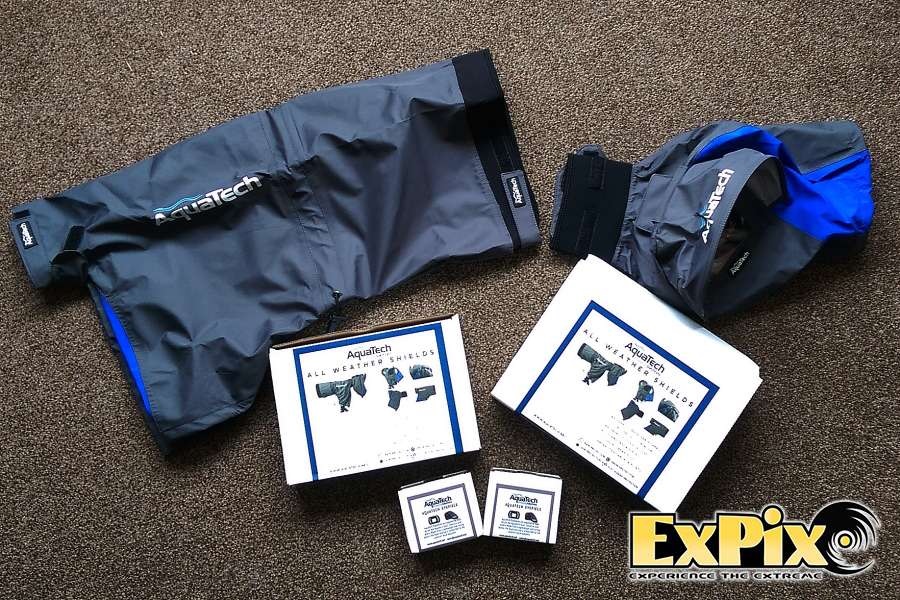 Working a lot outdoors, on beaches, by a lake, or just on the street; our kit can take a beating from the weather or hazards of the location. Rain is always a problem and whilst the Canon cameras can usually deal with a small shower or drizzle quite well; for anything heavier we usually use some sort of cover.

In the past we've been known to use whatever we can get our hands on; a polythene bag and gaffer tape, an arm of a waterproof coat; we think we've manage to utilise just about any waterproof piece of material we can find. Whilst not ideal, it's usually done the job, albeit temporarily.
But as the saying goes 'you should never leave home without protection'. So now we've gone and got ourselves the real deal, purchasing some AquaTech All Weather Shields from Cameras Underwater.

The AquaTech All Weather Shields are quite a handy design, with several models covering a range of camera bodies and lenses. With a 'Primary' body part that will accommodate a body and a small / standard lens and 'extensions' for longer lenses, you can protect a full range of camera equipment.

We have lenses ranging from fish eye to 800mm and with just 4 AquaTech All Weather Shield pieces, 2 bodies and 2 extensions; we can protect two cameras using any of the lenses. This is really handy when it's raining as we can have the 800mm on the tripod and a second camera with a shorter focal length for those closer action moments.

Designed to protect camera equipment from all the elements; rain, snow, salt, dust or sun; the AquaTech All Weather Shields are made of waterproof ripstop breathable nylon, with each cover having taped sealed seams.

The shields feel quite sturdy out of the box, yet light and flexible and the size isn't too bulky either. So much so, that on a recent trip we left the 800 in its extension permanently as it fit into the lens casing quite easily.

The extensions attach to the main body part by means of a neoprene collar and Velcro, keeping the water resistant nature whilst still allowing the use of the focus and zoom rings on the lenses. They are very easy to fit including the neoprene eyepiece hole which just stretches over the eyepiece. Fitting time for body and extension is approximately 2 mins, most of which is taking the covers out of their boxes.

We found that just using the body on its own was somewhat fiddly to use with the smaller zoom lenses 16-36 and 24-105mm; the neoprene neck can sometimes slip when zooming, meaning that you have to use a slightly different technique. But once you get used to it, it's not so difficult that we couldn't use it and it's much better to keep the camera and lens protected.


The window on the back of the housing allows easy viewing to most of the dials and the screen for viewing the images. The only thing we would like to see added is a window on the top so the control settings can be viewed … but if you're used to using your camera you can work around this little missing feature.

Over the past 16 weeks we've thrown absolutely everything we can at the AquaTech All Weather Shields as we've tested them and put them through their paces. First up and we headed off on a 7.5 week trip to the Languedoc-Roussillon region in the South of France to cover several events; EJKC, Mondial du Vent, Defi Kite, Defi Wind and FISE. This area is renowned for the Tramontane, a strong wind that powers its way through the neighbouring Pyrenees, whipping up the sand and blasting anything that gets in its way; 73 knots was recorded at Defi Wind. Add to that the crazy amount of spray that we had to deal with on the boats as the ribs try to keep up with the racing kitesurfers and windsurfers and you could say our testing ground was just about as perfect as you can get!

Next we took an impromptu 10 day road trip around the Highlands of Scotland as well as covering a number of events in the UK, including the British Kitesurfing Championships, where our poor photographer was the 'Last Man Standing', being the only photographer protected enough to cope with the relentless rain on a miserable Sunday on the beach at Southend on Sea!

And we're pleased to say that after such rigorous testing, the covers passed without incident or failure. Definitely a worthwhile piece of kit for the camera bag if you're working in harsh conditions. Check out the images to see just how bad some of the conditions were when we were 'testing' the AquaTech All Weather Shields.
A few tips:
Make sure you get the correct extension for your camera and lens outfits. If you don't you could end up with too little or too much material; either way it won't fit properly and won't give the right protection.
You need to get the correct eye piece. The eye pieces are designed to fit certain models providing a secure and water resistant seal whilst still allowing the view finder to be used without any obstruction or 'filter'.
For more information about the range of
AquaTech All Weather Shields
, why not pay
Cameras Under Water
a visit. These guys specialise in products for
underwater photography
so know a fair bit about protective housings for your cameras. They're really helpful and will be able to give you all the advice you need to ensure you get the right piece of kit.
Prices range from £89 - £149 plus the eye piece at £19.99