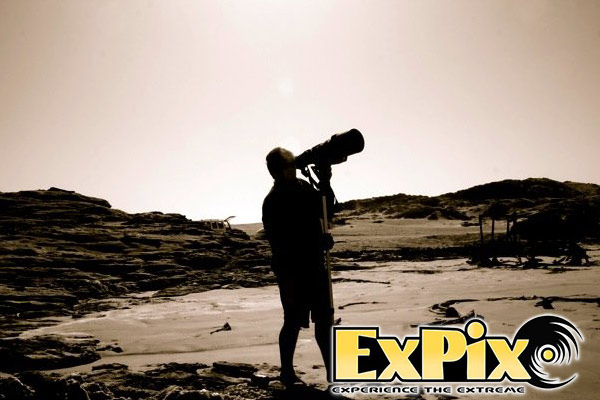 "So where're you to off this time, somewhere nice and sunny I bet?" "You're on a permanent jolly." "Need any help with the babes?" "Do you want me to carry your bags?" "What a job, it must be great!"

Well is it?

Is being an extreme sports photographer really all it's cracked up to be?

ExPix's Head of Photography Ian Edmondson looks back on how it all started over 10 years ago.
Sure I get to travel the world and as an accredited press photographer get access to some of the best events. And yes I've met and photographed some legends over the years.
But it's not always an easy ride!
Early morning starts and late evenings, which as any photographer knows so often becomes early morning finishes when you've got editing to do, standing around all day at an event in the rain, or hours on end in the UK waters in winter, all whilst trying to make lesser known riders or even good riders look good in crappy conditions, are all part of the game; doesn't sound so appealing now does it? So why do I do it?
Well the simple truth of it is I LOVE IT! It's not a job this is my life!
No boring 9 – 5, no daily trudge along the same road to work each morning, no one breathing down my neck asking me to do mundane, mind numbing tasks, no looking at the same four walls each day; nah that's not for me!
For me being an extreme sports photographer is about being in a different place every week, meeting and getting to know new people from all walks of life and photographing athletes doing what they love best no matter what stage of the game they're at. Then there's the challenge of going to new places and never knowing what to expect, not knowing what Mother Nature has in store, different conditions, different lighting and different angles; these are my competition, my adversaries, what I have to overcome and conquer on a daily basis. And as for waking up to the most magnificent scenery and having the most amazing 'offices' each day; well it simply doesn't get any better than that!
So where did it all begin?
Well about 15 years ago, for a number of reasons, I needed a more flexible job. And having attended Wakestock more or less since its birth, I learnt that I could take wakeboard pics and decided there and then that I should be able to take any
extreme sports images
. Rather a bold assumption I know, but I can honestly say that luckily, so far, I haven't come across a sport where I've not been able to get a decent shot.
In early 2003, I saw kitesurfing for the first time. After touring around the country trying to find extreme events, I arrived at Rhosneigr to photograph a BKSA kitesurfing event that was taking place there. There was no wind, surprise, surprise, there was persistent rain and everyone was grumpy and to top it all I didn't know anyone to talk to. I walked along a damp and sodden beach before returning to my van where I bedded down for the night on a makeshift bed.
The following morning I spoke to one or two riders who turned up for the briefing; Andreya Wharry, now Bennett, Kirsty Jones, Chris Bull, Ben Hanbury, Tom Court, Mike Smith and a very baby faced Robin, snuggles, Snuggs; sorry Robin! Everyone seemed fine, quite chatty and very helpful, but as for the weather, well that was something else! The eternal question loomed, what am I doing here? Quickly followed by, is it worth staying?
I went to the van and had another nap.
I awoke mid-afternoon and took a stroll down to the beach, nothing! I went back to the van twiddling my thumbs. I was getting bored so took a ride up to South Stack a light house station on Anglesey. The clouds started to clear and I managed to take a cracking image from the top.
On arriving back at Rhossy everyone was packed up, except a guy on a Cabrinha; Mike Smith. He was hammering up and down, out and in, on the wind that had appeared from nowhere. On the beach was a guy with a large video camera making what I later found out was a film called Fluid Edge; yes it was the legendary Sean Nolan. So with him and the guy who was assisting him, we sat watching Mike do his stuff for the camera.
Then it happened!
The clouds parted and the sun came out, illuminating everything with an orange glow and the sea went midnight blue as Mike was jumping across the sun. I positioned myself with my brand new D60 and a Tamron 200 – 400 lens.
Mike had changed his tack, so I moved again, this went on for a few minutes until I realised that I would just have to grab the shot whenever I could. Mike began to pull tricks like dead men, back loops and huge jumps as I gazed on in amazement. This was the first time I had seen kitesurfing let alone photographed it, it was captivating, challenging; how could I photograph this?
I clicked away hoping that I would get at least one image out of this. About half an hour passed and the sun dipped behind the Rhossy headland and I went back to the van to edit the images.
The following morning there was clear skies and wind and the competition was on. I stayed around clicking at anything that moved; I had an awesome day!
That evening I took the images from the day and the previous evening to the presentation at the golf club. I set up at the back and people began looking. I won't embarrass the people who commented but the comments were good. It seemed that Mike Smith jumping across the sunset and Bully's board hit the mark.
Suffice to say that weekend changed my life!
From that day on I've been fortunate enough to travel the world photographing some of the world's best athletes in some of the best locations. No two days are the same. No two shoots or events are the same. And even when you know an athlete really well, you're never quite sure what they're going to do!
But it's not all about the pros. Unlike other photographers who just want the 'money' shot, I'm happy to take the rookie shots; after all they could be tomorrow's pros.
Everything now revolves around when I can get out of the office; chasing forecasts has become a way of life and knowing which motorway services have what, where the best overnight parking spots are and who to contact when I get to 'the spot' is my 'knowledge'.
But for me my competition starts right behind the lens. Even if no one else is taking pictures, I have to be the best I can. I may only get one chance to get the shot and I have to nail it. And only when I've nailed it am I satisfied and being a true artist, there's always room for improvement!