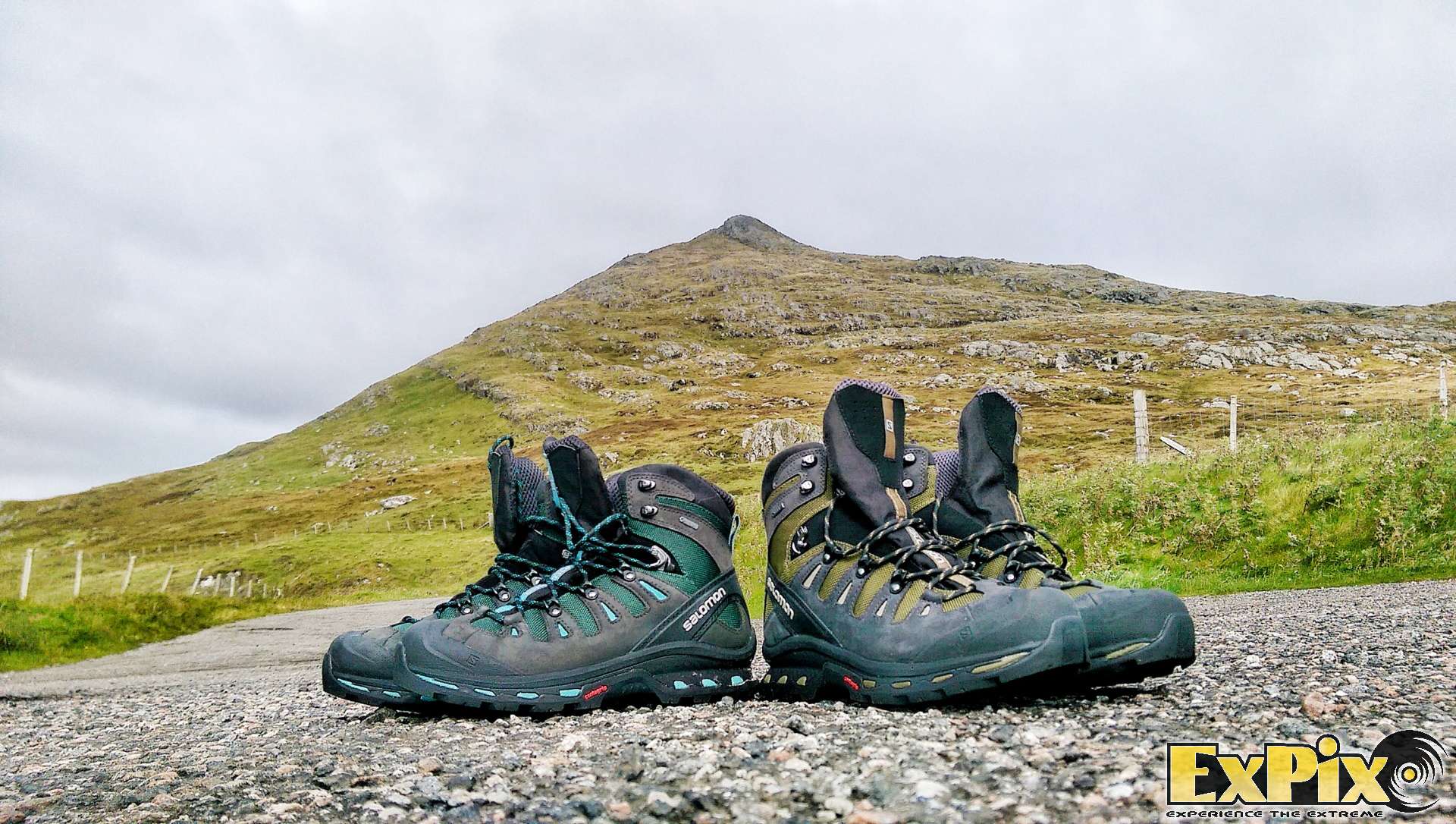 When these beauties arrived in the office, we were chuffed to say the least. Being out and about as much as we are, having decent footwear is essential. So when we were asked to try them out, curtesy of Salomon and Ellis Brigham, we jumped at the chance.
First up and the boots look smart; nubuck leather and textile uppers in iguana green/asphalt/dark titanium for the men's boots and asphalt/ green black/ haze blue for the women's; talk about snazzy!
Trying the Salomon Quest 4D 2 GORE-TEX Walking Boots on and the OrthoLite insole were comfy. Designed to hold the heel in place to prevent blistering, the rubber heel straps hug the back of your feet and, together with the high cut profile, our ankles felt pretty secure. And it wasn't long though before we found out just how useful these extra support features are.
Weight wise the boots felt much lighter than we were used to and we wondered how these would hold up when put under pressure. But we needn't have worried.
Out an about and we've tested the boots on a variety of terrains and in all sorts of weather, and each and every time, the boots have come up trumps.
In the Outer Hebrides, the GORE-TEX membrane kept our feet dry in the wettest of conditions. With water being a major feature of the Western Isles and visiting during one of the wettest summers, we had rain almost every day for the 3 weeks that we were there; the ground was boggy to say the least. But at no point did our feet get wet. Nor did they get sweaty; the GORE-TEX is breathable.
And as for comfort, the Salomon Quest 4D 2 GORE-TEX Walking Boots score top marks here too. It's usual for us to wear the boots all day long and we never get blistered or sore feet, even when walking the rugged terrain of the Hebridean Way. The boots are so light, yet so supportive; we're in no rush to kick them off at the end of the day.
All in all the Salomon Quest 4D 2 GORE-TEX Walking Boots get the thumbs up from the ExPix team. And at approximately £170 a pair, they don't break the bank either.
Features:
• Nubuck leather and textile uppers are lightweight, breathable and abrasion resistant
• GORE-TEX Performance Comfort is waterproof and breathable for all conditions
• High cut profile gives increased support and stability around the ankle
• Gusseted tongue
• Protective rubber toe and heel caps
• Rubber heel strap holds the heel in place to prevent blistering
• OrthoLite insole with EVA heel cup for long-lasting cushioning
• 4D advanced chassis provides a stable construction to give comfort and control
• Moulded EVA midsole gives cushioning and stability on rocky terrain
• Contagrip sole is non-marking, durable and offers good traction
• 640g (single boot size 8.5)