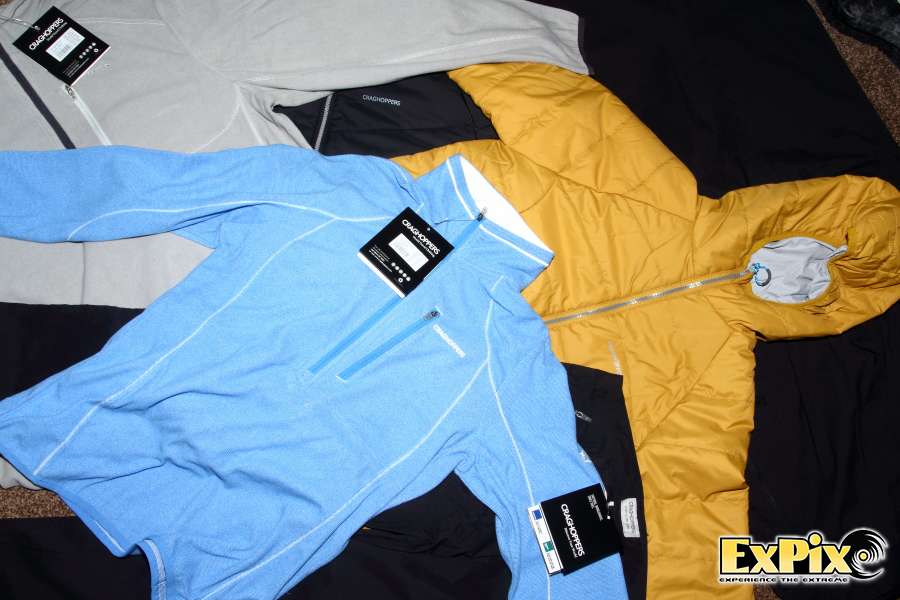 Always on the road, the ExPix crew need clothing that is comfortable to wear, does the job of keeping them warm and dry etc and, most importantly, is lightweight and doesn't take up too much room. So as part of our Van Life Blog, 'Getting Geared up for the Road' article, we set Craghoppers a challenge to find us some gear that would fit the bill.
And boy did they do just that!
From their Pro Lite range, Craghoppers sent us a complete outfit of lightweight clothing to test including; Kiwi Pro Stretch Trousers, a Pro Lite Half-Zip Fleece and to top it all off a CompressLite Jacket.
From the offset we were absolutely blown away by just how small the bundle of clothing was. Where space is at a premium, particularly when you're travelling, the Craghopper range is perfect. Take a look at the pictures and see for yourself the comparison between the Craghoppers clothing and a standard pair of trousers, fleece and warm coat. The difference in size is incredible. So that's that box ticked.

Next up and we looked at the performance; when you're faced with such super thin clothing, it's hard to believe that it will actually work. But we needn't have worried. Craghoppers have been making protective travel and outdoor clothing for over 50 years and use tried-and-tested technologies. Boasting 'Innovation all the way', Craghopper design their clothing to give you the best possible performance meaning that you can get on with enjoying yourself without worrying about what the elements may throw at you.
So to the individual items:
The Kiwi Pro Stretch Trousers are brilliant. Where other pants can be restrictive the 'stretch' element in the Kiwis mean that you can push yourself just that little bit further, perfect for when you find yourself in a tricky position! And they come with a water-repellent finish and offer sun protection too. But as well as all that technical performance, what's great is that these pants dry in next to no time, an absolute must when you're on the road.

As we said in the Getting Geared up for the Road' article; when it comes to clothing and travelling light it's all about wearing layers. Layers provide insulation for when the temperatures cool but can just as easily be removed as the climate changes. The Craghoppers Pro Lite Half-Zip Fleece is one of the lightest microfleeces we've seen yet it performs superbly. It's comfortable to wear and provides an effective insulation layer.

There's nothing to the CompressLite Jacket, when you lift the package it feels like there's nothing there. But don't let that fool you. Just as the lightest of duvets can outperform a whole heap of heavy blankets, so too does the stylish CompressLite Jacket. Made up of ClimaPlus filling for instant insulating properties comparable to natural down, this jacket is super comfortable. Wearing it is like snuggling up in your favourite duvet! And it keeps you super warm too, even when the jacket gets wet. But best of all it compresses into its own sack, meaning you can easily stick it in your rucksack, travel bag etc without worrying about how much room it will take up or if it will get dirty. With outstanding performance that surpassed our expectations, all in all the CompressLite Jacket is a nifty little piece if kit.
So that's the performance box ticked too.
Next up and it's the price. As anyone who's ever shopped for performance gear knows, you need to think about taking out a second mortgage if you want to buy some of the brands. But with Craghoppers you don't have to worry. Coming in at £60 for the CompressLite Jacket, £45 for the Kiwi Pro Stretch Trousers and £30 for the Pro Lite Half-Zip Fleece, you can buy a whole outfit for less than it costs to get one piece from other brands.
Needless to say we were impressed; quality products at affordable prices, what more can you ask for!
CompressLite Jacket
Spec:
Full length two way centre front zip with inner zip guard
Inner drawcord hem adjusters
2 zipped pockets
Elasticated bound cuffs
Grown on hood with elasticated bound face
Reflective detail
Stuff sack
100% Polyester with finish & hollowfibre fill
Pro Lite Half-Zip Fleece
Spec:
1 zipped chest pocket
Half zip fastening
Elasticated bound hem and cuffs
100% Polyester
Kiwi Pro Stretch Trousers
Spec:
Pockets: 4 zip fastening
Heel tape
Elasticated waist at sides
Removable sunglasses wipe in side pocket
Stain resistant finish
For more information about Craghopper Lightweight, compact, waterproof clothing and other items in their range go to the Craghoppers Website