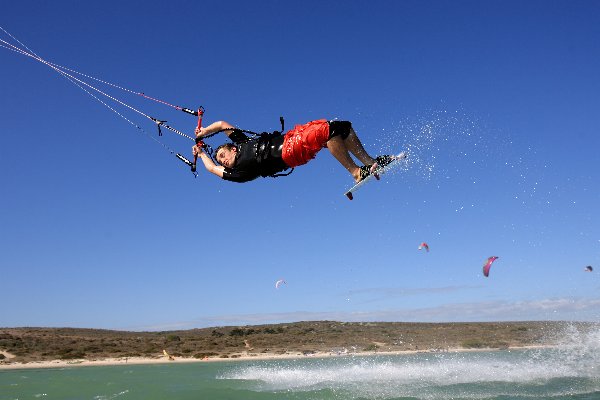 As we said the section isnt all about World or National Champions its about the kitesurf community so here we have Murray Alrich a cheeky chappy from Essex.
Murray who is currently taking time out from study (HE WANTS TO BECOME A LAWYER !!!!!!!!) is traveling and living the life of a kitesurfer.
Muz as his friends call him is always one for a laugh and joke and can be often seen pulling the women on any beachfront, pub or club ......... ooops rewind ...can't let his girlfriend see that !
He has been competing on the british Tour now for a few years and is currently in the pro fleet where he is advancing all the time, learning new stuff and generally beating the c..p out of himself with his over exhuberant attempts to land massive tricks.
This year Murray has quietened down a little and is now prgressing quicker than previously however he doesnt compete to win, he competes to improve!
Competing on the British Tour, training in SA and travelling to KWPT events Muz is learning all the time 'thats what its all about' he says 'learning, progressing, meeting people and having a good time in new places around the globe.'
Muz also trains at cable parks whenever he can, it helps him to hone his skills when the wind is non existant. The cable is ever constant and allows for more consistant conditions when learning new tricks. However it doesnt make it any easier and it can still hurt he reminds us.

Nickname..............................Muz

DOB......................................20 years old!

Lives.....................................The home of the slag, sunny Essex and proud!
Kiting......4 years i think its been a bit of a haze
Local beach .........................is a lesser known place called Frinton-on-sea, for anyone that saw the program about it, its not all true!
Favourite kitespot..................Langebann South Africa and Martello Bay Essex
has kited in Egypt, UK, South Africa, Namibia,
Equipment
Food......................................McDonalds (its dirty but i love it)
Listens to..............................Fat Freddys Drop at the moment but but of everything.
When not kiting.................. workin, cable, snowboarding, fesitvals and of course at my girlfriends.
Why kiteboarding............... there are a few simple reasons why i kite first of all the power and power lets be honest what else is there?? the second reason, and this is something that i have been very lucky with is traveling and the whole experience that offers you. and my last reason because whatever my own opinion is kitesurfing is whatever each individual wants it to be, what can be a better sport if you can decide what that sport is to you??!!
Who am i...............................wow thats a big question, i could get really philosophical about this but whats the point anyone who had ever met me would laugh, what you see is what you get i guess i am a fun loving, live life at mach 10, non stop cheeky chappy, who likes new people, places, kiting and cable but most of all a fresh cold beer and in good supply. O and Jack Daniels (hint hint)


Sponsors.......My sponsors are few in number but big on loyalty and i thank them dearly for that. North kiteboarding for amazing support and its worth it just too be involved with a great team and www.kiteboardinguk.com for believing in me from the start. new to the table recently are ZEAL OPTICS. Thanks to them for epic glasses and keeping my eyes safe! Oh and to ExPix ....nearly forgot them ... for all the help they have given me trying to promote myself. Cheers guys!
Well we wish we could remember how we met Muz!
He's been around on the British Tour for a few years now and probably the first time we met him would be in Fraserburgh after the second Follow the Wind tour. At first he didnt really show amongst the big characters on the tour at the time, but that was soon set to change.

Well the first time we properly met him would be in of all places SA Langebaan to be precise (we seem to meet a lot of people there) Making a trip up there to speak to yet another kite friend of ours Lighty (aka Taro Niehaus). Well it wasnt all plain sailing and we had some awesome ....errr discussions but we always managed to end it on a we'll agree to disagree point of view. From there we have become close friends and we now consider him to be one of the ExPix family (We just need to treat him like a little child every now and again) he calls Jo his kitemum (and kite milf when his girlfriend isnt listening) so yeah we think he's very cheeky.
Always at the centre of attention especially when theres a party or drinking session he's the preverbial clown, joker, jester ......take your pic but he'll always have you laughing.
He is keen to please and works hard when he's asked to do so. His presence at events is well known and as such would make a good candidate for sponsorship via products, clothing, equipment, or gadgets etc.
We will be expecting Muz to update us and add to the blogs on a regular basis telling us just how much he's enjoying his lifestyle.
So we have increased his profile this year by doing shoots in the Cairngorms snowboarding, SA kiting and cable, Tiree filming with Helen Thompson and Coast as well as the UK pro Tour and extreme sports events like WhiteAir.
So watch this space for links to his new site and to follow his progress throughout his winter training regime.