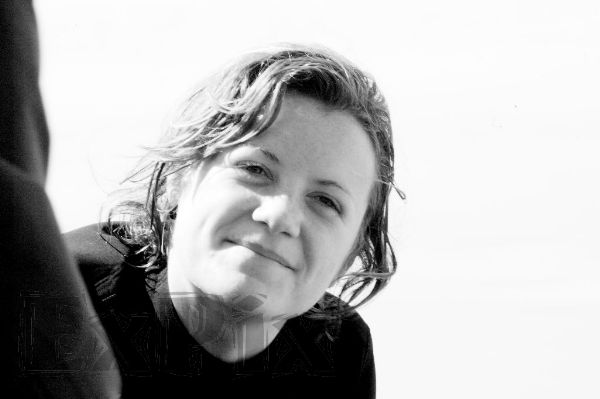 Helen Thompson is Scotland's no1 female Kitesurfer, Living between Glasgow and the Ilse of Tiree,
when she's not competing or training in locations around the globe Helen prefers to be in her favourite spots around Tiree where the wind blows more frequently than anywhere else in the UK (statistically speaking of course). She has also just set up the Tiree Kitesurf Academy at Gott Bay on Tiree.
Helen came from nowhere on the UK scene two years ago winning the ladies Am competition at the first attempt, an outstanding achievement for a young girl who had very few people to kite with and push her to reach this level.
In her second year she narrowly missed out on the British Pro title after a very close battle with the eventual winner Joharra Sykes Davies. the two of them were neck and neck throughout the year with the lead changing after every event and it was only 1 position that made the difference out of seven rounds. With plans to go away for the 2007 / 2008 winter she had some really bad misfortune when after a shoot with ourselves on the Ilse of Barra she had gone to to Troon for a quick session and whilst lending a friend one of her new kites thieves broke into her vehicle and stole all of her knew equipment for the 2008 season. This stopped her training for most of the winter as she tried desperately to replace the stolen equipment but now she is back on track.
This year she has competed on a national level on the Britsh Tour in the ProFleet and on the international Tour the KWPT where she was doing well in the course racing early on.
DOB ....................................... 16/12/85
Height....................................5.5
lives .......................................Tiree /Glasgow
favourite Kite Spot...........the maze Tiree
has kited in ..........................South Africa, UK, Portugal, Scotland,Egypt, France, Greece, Holland, Ireland,
Equipment....................... ... North, excel,zeal,optic, Tiree Scarinish hotel
Listens to ............................. Tiree / Glasgow
When not kiting..................snowboard,wake,skate,climbing,knitting,surfing
How ExPix met Helen
Well she wont thank me for this but we met her at the British Championship in Littlehampton some 2 years ago. Sat around our mobile office with a projector showing an image slide show from previous events on the side of someones van, two Scottish girls appeared out of the darkness after traveling all day to get to the event. Being Scottish and bullish Helen proceeded to tell everyone that because she was Scottish she could match them with the Whiskey......suffice to say she had a very sore head the next day!So did everyone else !
Since then we have got to know Helen on a more personal level spending time with her on Tiree during a windsurf event the Tiree Wave Classic, around the country on the British Tour as well as abroad in SA where like most of the International pro kiter go to train during the winter. She is a determined person and want to make it in the extreme sports world. She is natural in front of the video camera's making her an ideal candidate for a presenters role, you never know when we get ExPix running properly you may see her fronting some of our event reports.
We have tried to help Helen with the promotional side of kiting, providing images, writing press releases and generally advising her as to how to promote herself in a way that is beneficial to her and her sponsors. We have in partnership with Helen provided her with great coverage and exposure in the Scottish National Newspapers and are currently working on magazine and industry exposure for her. This has included trips to film /shoot on Tiree, the Ilse of Barr, the Cairngorms, and following her progress on the British and International Tours.