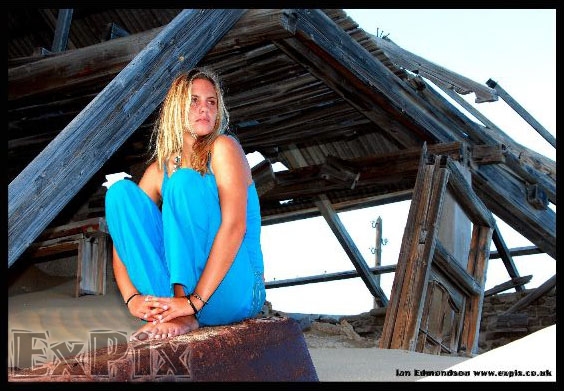 Sjoukje Bredenkamp the fasted woman on a kite and currently the outright speed record holder for a woman sailor is only 20 and a true extreme sports athlete.
Breaking the world speed record in Luderitz Namibia last year Sjoukje capatpulted herself into the history books forever by becoming the first woman on a kite to hold the worlds speed sailing outright record.
Born in Johannesberg in South Afica she has been kiting fo approx 5 -6 years. Sjoukje is in the vanguard of the new wave kitesurfers, living without limits and turning the sport of kiteboarding on its head. Fueled by a blend of competative ability and enhanced by the belief that the real limits are only those imposed by yourself.
That statement has been proven twice since 2006 when Sjoukje smashed the prvious world 500m record by almost two knots with a run of 37.24knts putting her in the record books for the first time and then again in October 2007 when after the kite world saw major developments in both kites and boards she not only beat her previous kite record by 5knots but also beat the existing overall speed record held by Switzerland's Karin Yaggi with a run of42.35knts.
Sjoukje is not just a kiter she enjoys life to the full and is an accomplished artist, and a budding writer and photographer. She reads whenever she can and travels almost year round. An asset to any team she does most of her own promotion and is keen to capture a big sponsor who will help her develop her talents and take her kiting to the next level.
DOB .......................................11/6/88
Height....................................178cm
lives .......................................Langebaan, South Africa
favourite Kite Spot........... Pearly's beach Langebaan
has kited in ..........................South Africa, Brazil, France, Namibia, Morrocco, UK, Feurte.
Equipment....................... ... Niash Helix kites and cape doctor speed boards
Listens to .............................almost anything
When not kiting..................watches films, cooking, travel, surf, paints, draws, explores, goes mad pray's for wind and enjoy's life
Why kiteboarding............ I can let go and let the elements take me for a ride on the wild side. I have fun andbecause its my passion, it sets me free and keeps me in touch with my heart.
Your phylosophy.............. If you are disrespectful to mother natue she will give you a hiding. Show respect at all times to the ocean, the wind and to the legends that came before us. Face your fears, live your dreams and always remember that great achievements involve great risk.
How ExPix met Sjoukje
We first met sjoukje Bredenkamp(pronounced show - kya) on a trip to SA in Jan 2007 already the fastest woman on a kite at 19 she didnt seem the sort of person who would do that sort of thing. With a bohemian style and a laid back attitude she was just the typical teenager you would find anywhere in the world. But she had something different, a glint in the eye, a cheeky smile and she could hold her own with any of the boys.
She showed us around Langebaan ( the real town ) as we was looking for interesting places to do some lifestyle shoots. For her help we offered her the chance to have a few shots for her portfolio. Now our cheif photographer Ian Edmondson must make a confession here........... he didnt think she would come across that well .. even though she was bubbly and had a enchanting charisma.
Well how wrong can you be ..... with in seconds of getting out of the car at the first venue she had all but frozen. Gone was the cocky bullish attitude and in her place a nervous yet willing and almost studious person replaced the girl I had just been speaking to. hmmmmm nervous ... not good for the camera .....wrong again !!!
Within seconds we already had two shots in the bag that were stunning ...... the nervous look translated well in the camera and as she viewed them on the screen you could see her confidence grow. With 30 mins I had another series of shots and it seemed evry click produced a winner. Unfortunately the rain started just as we were getting into the flow ... Ah well cant win them all.
So later that days Sjoukje took me to a few other places and we managed to get an almost full portfolio for her.
Since then we have shot with Sjoukje on several occassions around the world, Namibia in a disused diamond mining ghost town, the river near her home for speed, Uk, Fuerte France, Namibia and SA during competitions and of course at her home in Langebaan.
Sjoukje on a shoot in Shark Bay Langebaan
and always we come away with something special.