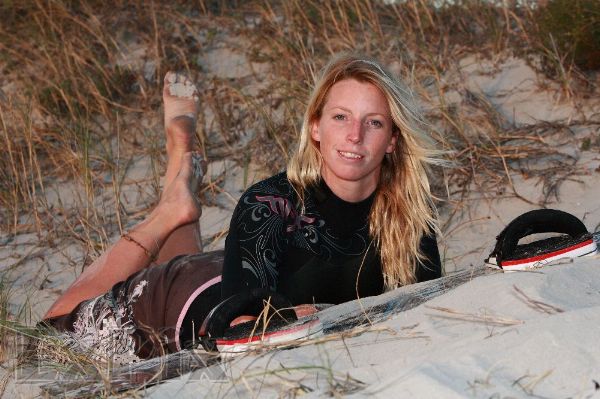 Jo Wilson is arguably one of the UK's most iconic female kitesurfers. With a career spanning over a decade, Jo's kitesurfing journey b egan way back in 2002 when she first took to the water in Rhosneigr, Anglesey whilst studying at Bangor University. With the help of Bucky at windsurfing and water sport shop, Funsport; Jo took her first tentative steps in kitesurfing.

Despite initially finding it difficult to get the hang of kitesurfing; by 2003 Jo had picked up her first sponsorship deal with Cabrinha and went onto to represent the brand in competitions. In 2004 she was crowned British Freestyle Champion and successfully defended her title in 2005.
Below are images of Jo Wilson from her first shoot on North Kite kit .... there will definately be more to come from ExPix and Jo Wilson for more images from previous shoots with Jo Wilson see below
And Jo's success didn't go unnoticed. Catching the eye of international brands, she joined the
Naish
and
Protest Boardwear
International Teams in 2006 and went on to compete in the
PKRA World Freestyle Tour
, winning first place in the Best Trick competition in Belgium and finishing in a respectable 4th place position overall in the freestyle competition.
Jo's reputation as a powerful and gutsy rider earned her the respect of fellow
kitesurfers
and has resulted in extensive media. In addition to featuring in the majority of international and national
kitesurfing
magazines; articles about Jo also featured in women's magazine, Real, South African travel magazine, Getaway and men's magazines, Boys Toys and Nuts.
In 2008 Jo landed her first major screen role. Approached by producers of the Channel 4 show, Dangerous Jobs for Girls, Jo was asked to join the team of 12 women as they were filmed taking part in some of the most dangerous and male dominated jobs. Episode 3 saw Jo and 2 other girls working on The Explorer S, a fishing trawler working out of Port Lincoln, South Australia.
From 2008 – 2010 Jo continued to compete in the world circuit, travelling the world extensively to take part in competitions and for training, and sharing this experience and promoting kitesurfing and her sponsors by writing articles and reporting on events for a variety of magazines.
Jo is no stranger to
ExPix
; Ian, head of production at
ExPix
has known Jo from the start of her career, meeting her for the first time at Rhosneigr. A longstanding friendship has developed over the years, which has seen Ian working with Jo on various shoots in South African, Turkey and the UK, and capturing her as she competed in the
BKSA
and
PKRA
tours. As Ian explains, "Jo paved the way for powerful female kitesurfers. Her determination and dedication to improve her riding has always been relentless. The word quitting just isn't in her vocabulary; she never gives up, sometimes to her own detriment. Her training regimes both on and off the water are punishing and it's easy to see why she's got a 6 pack that most men would be envious of! In 2012 Ian was privilege to be asked by Jo to photograph her wedding to Chris Rabone which he describes as being scarier than photographing Jo on the water!
After taking a break from competitions in 2010 Jo turned her hand to coaching, running a variety of
coaching clinics
for
freestyle
and
wave riding
in the UK and abroad. 4 years on and
Jo Wilson Kitesurf Coaching and Holidays
is a thriving business offering
kitesurfing coaching
,
kite lessons
, personalised online kite training plans and holidays for people of all levels.
This year will also see the start of the
Youth Kitesurfing Training Programmes
; aimed at helping 11- 18 year olds improve their riding and get ready for competition. Riders will be able to join Jo in 3 locations, Hunstanton, Barrow and Egypt where she will offer advice and coaching both on and off the water.
Now aged 33 and after 12 years in the industry; Jo's kitesurfing career is taking yet another turn. After 8 years with kite sponsors Naish, Jo left the brand in 2012 and has recently signed up with North Kiteboarding, joining fellow British riders,
Aaron Hadlow
,
Steph Bridge
,
Tom Bridge
,
Tom Court
and
Kirsty Jones
. Taking delivery of her new kites in May, Jo asked
ExPix
to take the first shots of her to coincide with her announcement about joining the
North team
.
With a new sponsor on board Jo announced that she would be returning to competition; the intention being that she would compete in the
PKRA
in Egypt in May. But Jo's planned were thwarted when a nasty cut to the hand sustained whilst training meant that Jo was unable to compete. With the hand stitched and now healed, Jo is back on the water and we're now looking forward to seeing her compete in British Wave Championships later this year.
ExPix caught up with Jo recently to ask her about her career:
ExPix - Who or what has been your inspiration in kitesurfing?
Jo -
The Rhosneigr crew who introduced me to
kitesurfing
have always been my inspiration. Their dedication to
watersports
over countless number of years has always given me drive and fuelled my own determination. The love for being on the water, the freedom it brings and the unpredictability of the conditions always keeps
kitesurfing
on the forefront of my mind.
ExPix -
What were your reasons for deciding not to compete after 2010?
Jo -
I spent far too much time living for a red flag green flag system piling endless energy in to 7 minute heats. In the end I felt it was too much time riding for competition and not enough time riding for myself and with my friends. Competing on the circuit gave me 5 years of visiting the same locations each year and after this time I felt I needed something new. Since finishing competition my level through reduced pressure improved more than it ever did while competing and the people who I met through my kitesurfing coaching holidays made me see a bigger world out there.
ExPix - Why did you decide to compete in the PKRA this year?
Jo -
I planned to compete in Egypt to prove to myself that I was over the injury of breaking my leg one year previously. I wanted something to train for and wanted to see where my level is on the world stage at this time.
ExPix - After 4 years away from the competitive scene, what's changed?
Jo -
Nothing
ExPix - Has the level of female riding on the PKRA World Tour changed over the last 4 years and in what way?
Jo -
There are a handful more girls who are very good now, so yes it has changed. In Egypt I saw multiple girls doing powered handle passes and it was really impressive.
ExPix - Do you think kitesurfing is still a male dominated sport?
Jo -
Kitesurfing has some seriously hot girls doing it so yes I suspect it will stay male dominated.
ExPix - How do you think women are represented in kitesurfing, do you think they are respected for their ability by sponsors and fans or is the way that they look more important?
Jo - Sex sells - it definitely plays a part in sponsorship. I also suspect that women do not get paid as much as the top guys so I don't really believe they are as respected as perhaps they should be, but having said that there are some mega female riders out there and you can tell they do a great job for the brands and I think these girls are respected as they should be.

ExPix - What's been the highlight of your career so far?
Jo – Every day is a highlight. I just love to be out amongst the elements, powered by wind in refreshing water in all different places around the world. I consider myself to be so lucky to be a part of it.

ExPix - What's been the worse point?
Jo - Not knowing how to handle the pressure of desperately wanting to be world champion and not knowing how to land the moves that I knew were possible for me.

ExPix - Any regrets?
Jo - No way!

ExPix - Is there anything that you still want to achieve within kiting?
Jo - I'd like a front cover, I'd like to slash a massive f*****g wave strapless and I'd like to travel to more destinations around the world that I haven't already yet been to.

ExPix - What does the future hold now for Jo Wilson?
Jo - Jo Wilson Coaching Holidays offering holidays in Wave Riding & Freestyle - perhaps my own Centre of advanced training for both kids and adults plus I'd like a small team of riders who I can help train and prepare for British, European and World Competition.

Images of Jo Wilson before her switch to North Kiteboarding