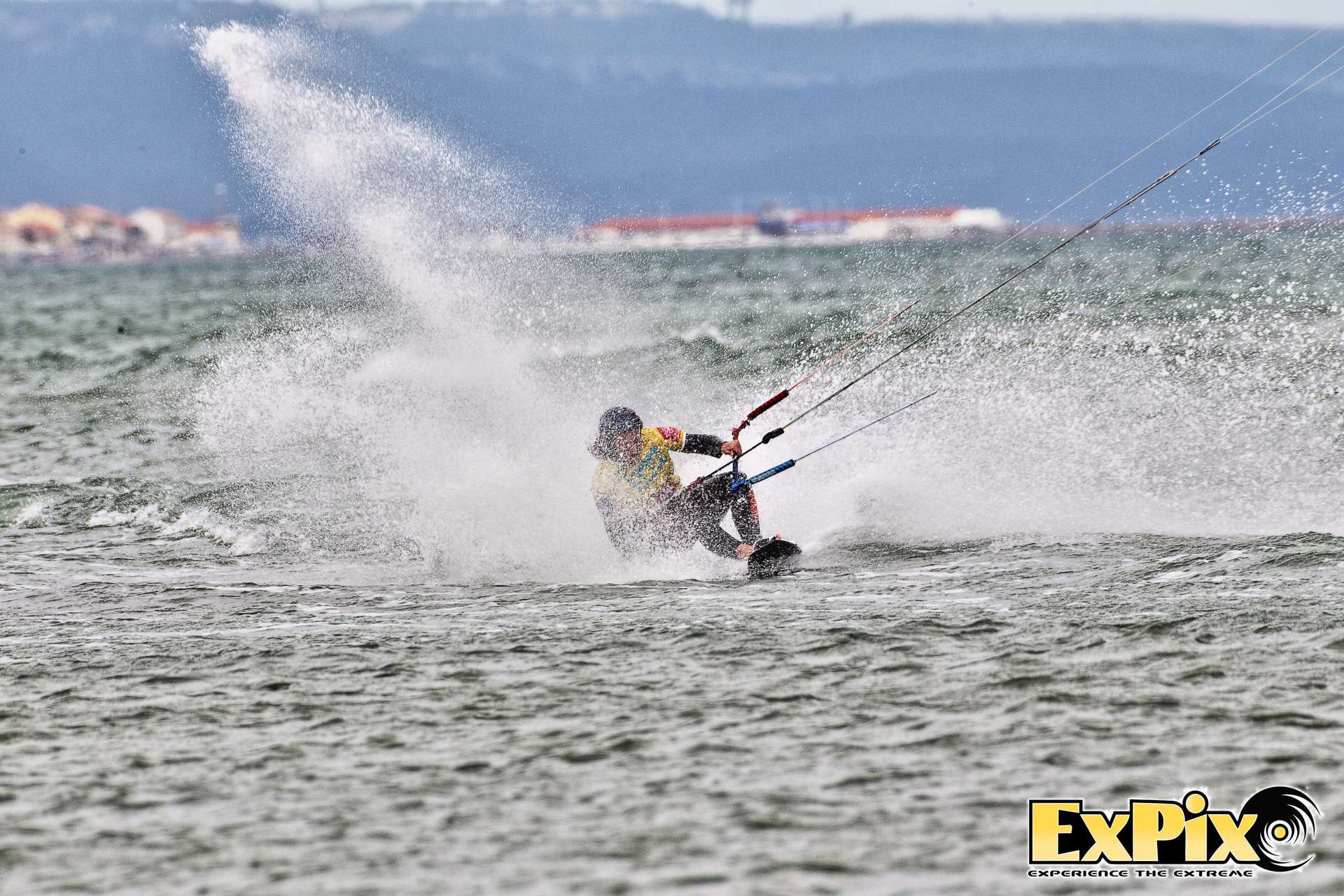 Name: Angely Bouillot
Date of Birth: 08/03/1988
Place of Birth: Lyon
Current Home: Town I'm based in Leucate but I live in a van so travel about a lot. You could say home is where I park it!
Height: 1.72m
Eye Colour: Hazel
Hair Colour: Red
Which sport are you best at or best known for? I'd say Kitesurfing but I don't think that too many people actually know me.
Do you do any other sports? I do lots of other sports, skiing, windsurfing, mountain boarding and slacklining. And I like snow kiting but don't get to do it often as I spend winters in a hot country. I'm also really keen on circus sports. I worked in the circus before competing in kitesports doing the 'big hoop', travelling all over Europe performing.
Is there any sport that you can't do that you would like to be able to do? I'd love to try base jumping and speed riding as I love danger!
Years Riding: 10 years
Home Riding Spot: Leucate
Equipment of Choice: Core for kite Speed boards PC2
Favourite Piece of Equipment: My cap
Sponsors: Core Kiteboarding
Brief Biography & Description of Yourself?
I have always been addicted to adrenaline sports. I obtained good result at national level in giant and downhill skiing after spending time at Bourg saint Maurice, in the south east of France. When I was 14, my windsurfing instructor introduced me to kitesurfing and I spent the next few years practising. I was asked to take part in kitesurf competitions but after years of skiing comps, I didn't really want to do that. Instead I concentrated on my other passion of art and costume design. I also learnt to weld. In 2014 I tried speed kiting and came 3rd in the Sosh cup, Mondial du Vent. With just 6 months of training I managed to beat Charlotte Consorti and won the little of Champion of France in 2014. In early 2015, I realised my max speed of 49.27 and I finished 2nd in the Sosh cup, Mondial du Vent, not to far behind the winner. Currently I'm training in big air, old school and strapless for potential competition and artistic level.
Favourite spot: I don't have a favourite spot; what I like about kitesurfing is that the playground is always changing.
Best session: In the big waves in Portugal and Morocco.
Achievements so far:
4 x French Junior Championship in Sking
2014 - French Kite Speed Champion
2014 - 3rd at the Sosh Cup Kitesurf Speed Mondial du Vent
2015 - 2nd at the Sosh Cup Kitesurf Speed Mondial du Vent
2016 - World Champion Lynch Kite Speed & Windsurf Challenge ( Mondial du Vent)
What are your goals? I want to progress in kitesurfing, in speed, in old school, in strapless and in new school. I also want to attempt the women's speed record in Namibia. And so much more………
Favourite:
Food: Good food, food of Lyon, lobster, good meat
Music: I like everything
Film: Fantastic films, old films, comedy, well made films,
Who would you most like to meet, past or present and why? Each meeting is important to me, it's what makes you grow.
Which period of history would you like to experience? There are two things I'd like to experience: I would have loved to be a pirate on Barbarossa's (Red Beard's) ship. I would have also liked to experience living with Red Indians. It's a more natural period, a community that helps each other. Unlike the way we live; humans want too much evolution.
If you won the lottery what would you buy first? I'd buy a big boat, kidnap my friends and go travelling. Then I'd share the rest of the money to help people and animals who need it.
If you could have or do anything in the world, what would it be? Live in a sail boat, see other cultures
What would you do if you got the 4min warning? For those of you who don't know; it's the siren that is supposed to go off 4 minutes before nuclear bombs destroy the world! It depends on the situation but if the explosion creates a gigantic wave, I'll kite the big wave for the last time whilst singing.
What colour Smartie would you be? Blue