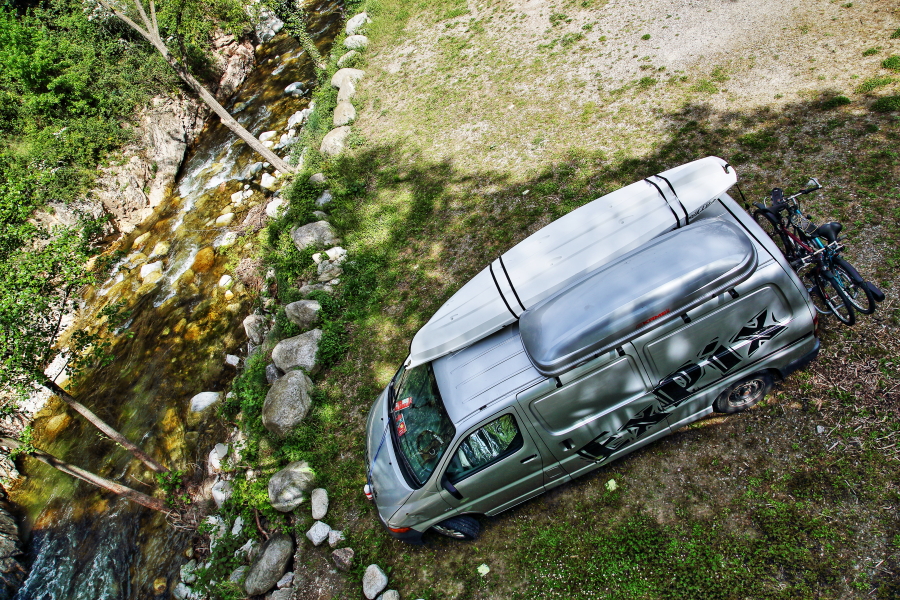 Getting organised for any trip or holiday takes time but when you're travelling and holidaying in your van it's crucial that you get it right. Knowing how to avoid those school boy errors is essential; get things wrong and your dream trip can soon turn into a nightmare!

So what sort of things do you need to think about?

In our last Vanlife article, 'Planning a Road Trip', we focused on the travel aspect; providing information to help ensure your journey from A to B goes as smoothly as possible. In this article we're going to be concentrating on what you take with you and sharing space saving tips to make life on the road just that little bit easier.

We're assuming that you've already got your van converted. Therefore what you can do and how comfortable things will be is going to be determined by what size van you have and what kind of conversion you've got.
If you have a day van for instance, then spending any length of time 'living' in it will be interesting to say the least. Whilst a weekend away might be fine; the quirkiness of managing in such a confined and ill equipped space will soon wear off when you're on the road. And whilst some generic conversions boast that they 'sleep four', you really need to ask yourself these questions; where are you going to store all the gear for four people, how are you going to cope with four people in the van if the weather is bad and lastly can four people (let alone 2) realistically live together in such a restrictive space with no privacy?

The common mistake that most people make is to try and live in a van as you would do at home and with the best will in the world, it's just not possible in most vans. Whilst bigger vans tend to have more storage, particularly if they have a 'garage'; downsizing in terms of what you take with you is key.

We all love our creature comforts and they really can make the difference between a great trip and an ordeal. But where space is an issue, you have to think carefully about what you can take and choose wisely. Knowing which items are essential and which you can do without is a matter of preference and something you'll also find out with experience. When you've got a few road trips under your belt you'll see a trend emerging of all the items you took which were used and those items which you take but never seem to use. Over time you can collate this information, modifying your lists quite easily, so that you're kitted out for most situations, whilst still having the room to be able to live comfortably in your van.


In the meantime saving space on the 'essentials' might just give you that bit more room to play with. Whilst everyone's needs aren't the same, there are a number of generic items that most people use when going on a road trip:
Bedding – If you can't fit your duvet in then ultra-compact lite sleeping bags are perfect for space saving. There is a large selection on the market with some models compressing down to a palm size ball. Check the spec though before buying especially if it's going to be cold where you're going. Similarly you can get travel pillows that are a quarter of the size of a normal pillow; but if getting a good night's sleep is important then these might not be for you.
Kitchenware – Cooking equipment and utensil can be bulky and heavy. You might have enough gear to kit out a professional kitchen at home but you're more than likely going to have to leave it behind. Whilst you can make do with stuff from your house, ideally getting your hands on gear that is specifically designed for camping or use in small spaces is the best option. If you are thinking of buying new then be realistic about the amount of storage space you have, the amount of people you are catering for and what type of cooking you're going to be doing. Light weight pan sets are cheap and easy to find as are plastic plates etc. But if you've not got room for fitting in pan handles or lots of individual items then maybe one of the fold away camping cook sets would be better, some of which have the whole lot inside including salt and pepper pots. Don't forget the bottle open; better still get a bottle opener key ring or lanyard for your van keys and you'll have one with you wherever you go. And as for BBQs the disposable trays are great for when you're on the road.
Clothes – The key with clothing is to go for layers. You'll be amazed at just how many layer items you can carry in the space that one thick warm jumper occupies. And if you invest in some proper gear, engineered to cope with whatever the elements throw at you, you should be every bit as warm, dry and comfortable too. There are a huge number of brands offering a whole range of lightweight, waterproof, windproof and breathable products, some of which have Stay Fresh treatment and are designed to wick moisture away. You can even get clothing with Ultraviolet Protection (UPF) and anti-insect technology. We road tested some
clothing from Craghoppers
recently and the compact size and lightweight made a massive difference to our wardrobe space.
And when it comes to towels you can downsize here too. Lightweight and compact; travel towels are perfect for saving space whilst still being highly absorbent. Another option is to adopt the 2 face cloth method; one to wash with, one to dry with. Not the best when you've had a shower but ideal for a quick wash.
Toiletries - Toiletries can take up so much room, especially if you use a lot of products. Unless you're going somewhere remote or aren't expecting to be passing shops, consider taking smaller quantities and stocking up on route. But if you can only use certain products then it might be best to check ahead if you can get these on your travels. If you're not sure then it's probably wiser to take what you need.
Pet Care – Collapsible food bowls are good space savers and can be pretty sturdy too.
Emergency Bag – You never know what's going to happen on a road trip so it's always best to have some tools with you. Mini multi tools and mini tool kits are great for the job, giving you everything you need in a compact easy to store format. It's also worth considering taking wind up gadgets, torches, lights etc just in case you have any kind of power failure or you just want to save your batteries.
Creature Comforts – If you're not lucky enough to have a shower and toilet in your van then you might want to think about buying a 'Utility Tent'. These tents are quick and easy to assemble and can easily be turned into a shower or private toilet area. For showering you can use a solar shower bag, which heats up in the sun or for a better experience try pressurised water or pump action portable showers. For the toilet you can use a
mini portable toilet, check out the range at Dometic
Or if you haven't got space for a portable toilet why not try the folding stools, pardon the pun! These gadgets look like your normal three legged stool but they have a hole in the middle where you can insert a degradable bag which has an ultra-absorbent material that can soak up to 30 times its weight in urine; you can also use them for number 2's too!
But even when you've downsized to the bear minimum, storage can still be an issue. But fear not as there are a number of products out there guaranteed to save the day!
Roof boxes could be worth investing in as they're a perfect way of gaining additional space without the need for towing. Fitting on to your vehicle via roof bars, the roof box can easily be removed when not in use. The Roof Box Company, has a whole range of boxes on offer starting from as little as £115 and they also have a 90 days exchange scheme which allows you to try the roof box and exchange it for another one if you find it's not quite right for you.
But if you need more space then maybe you need to think about buying or hiring a trailer. The advantages of having a trailer are they come in a variety of sizes, your gear is locked away from sight and is protected from the elements and you can remove the trailer when not in use. The disadvantages are restrictions on speed limit, less fuel efficient, difficulty parking and storage of the trailer.
Another option would be to fit a roof rack on your van. The beauty of van racks is that they enable you to secure larger items to your vehicle. The downside, which could be a problem, is that these items, which could be incredibly valuable, are on view and aren't locked away from sight.
And of course if you're carrying bikes then you really need a good bike carrier; if you're not sure which one to get, check out this guide at
roofbox.co.uk
it explains everything you'll need to know about roof mounting cycle carriers, tow bar mounting bike/cycle carriers and rear door mounting bike/cycle carriers.
There are other options too to creating extra space. You can carry a tent or you could look to add an awning or 'camproom' to the side of your van. Whether its room to sit out and chill, a place to store your equipment, a place to dry off your wet gear or even an extra sleeping space; mounted or driveaway awnings are great for giving you that much needed extra space. Dometic, a brand synonymous with motorhomes, make a
fantastic range of mounted awnings
that will fit a variety of recreational vehicles including van conversions.
With just a little bit of thought and careful planning you can use the space you have to the best possible advantage, making all the difference to your experience and ultimately your enjoyment.