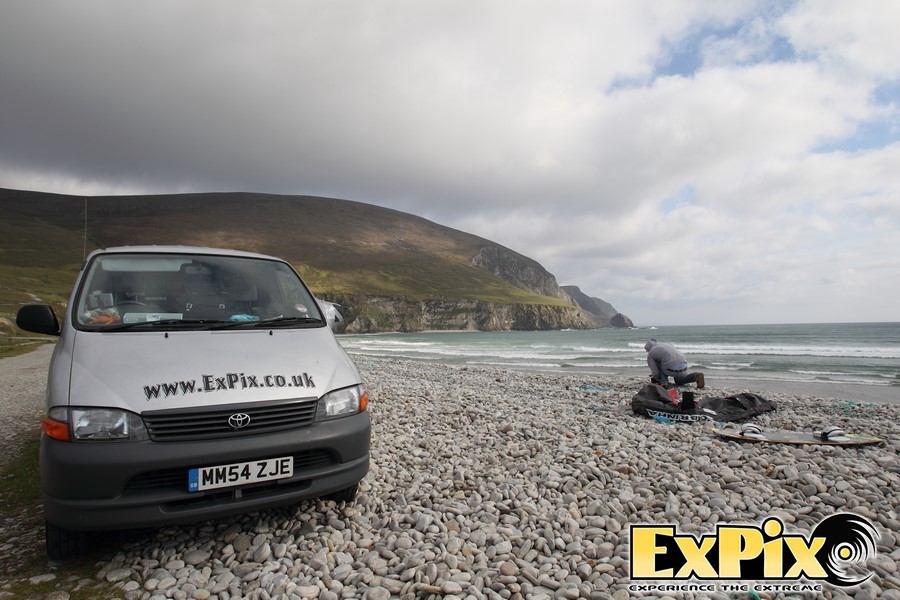 Vans are fast becoming an essential piece of equipment in the extreme sports world. How else do you get all your gear, boards, wetsuits, bikes, kayaks and sails etc to where you're going? Roof racks, bike racks and trailers are a good solution to the transportation issue in the first instance and there are some really great ones out there too. But if your kit is too big to fit on a rack, your vehicle is too small to carry it, or you don't want to be bogged down with towing; a van is the ideal solution.
Back in the 1950s, Volkswagen created the VW Camper Van/Bus, or V-Dub as it's affectionately known; a nifty little camper that revolutionised travel. No more looking for somewhere to stay or for some place to eat; with the VW Camper you had all you needed in the back; beds, kitchen etc. Beautifully styled and crafted the V-Dub was championed by surfers and hippies alike and fast became the nomad's dream vehicle. Stick on a roof rack, strap your gear to it and you're off; 'Bob's your Uncle or the world is your oyster' as the sayings go!

Over 60 years later and the phenomenon continues, but with a slightly modern twist. Whilst 'White Van Man' put LCVs, Light Commercial Vehicles, on the map; the extreme sports industry has taken them to another level. The realisation that vans are just as good for kipping in as transporting gear has led to an incredible rise in vans conversions. Poptop roofs, bespoke or modular designed interiors, rock 'n' roll beds, state of the art accessories, gadgets galore, plush furnishings, fixed or drive-away awnings, 'en-suite' showers and toilets, solar or wind power energy, are just some of the must have features. No longer just the domain of the business sector; vans of all shapes and sizes are now being purchased for everyday use and leisure purposes.

Thanks to the surge in popularity, Peugeot report a massive 50% increase in demand for their LCVs based on 2013 figures and quote the Peugeot brand as being the number one in 2014 for motorhome conversions, with the Boxer being the primary vehicle choice. And a recent marketing campaign by Volkswagen saw them capitalising on this latest trend too. To promote their VW California SE Camper Van range, Volkswagen teamed up with LateRooms.com to offer a unique experience; a chance for guests to book a 'room' at the 'Hotel VW California', a set of six California SE Camper Vans strategically positioned on Temple Island, Henley-on-Thames.

Having a converted van is a huge part of the extreme sports lifestyle but choosing which make and model to get and the actual conversions itself are very big deals. The first choice you have to make is what size van to get. Whilst budget will certainly play a part in this, what you really need to think about is how you're going to be using your van and where you're going to be using it. The small to medium size vans like the Bedford Rascal, Volkswagen Caddy, Ford Transit Connect, Mercedes Vito, Toyota PROACE, Vauxhall Vivaro and the Volkswagen Transporter make great weekend campers, with the medium size vans having just that touch more room for storage. Whereas the larger vans like the Mercedes Sprinter, Vauxhall Movano, Fiat Ducato, Volkswagen Crafter, Peugeot Boxer, and Citroen Relay naturally have more room for carrying extra kit, whilst giving greater scope for conversions; in other words this means you can install a shower and as anyone who's ever experienced 'life on the road' knows, a shower can never be overrated!

Once you've worked out which van to get, the next conundrum you've got to face is the conversion; do you it yourself, do you get a company to do it, how do you design it, what do you do for storage, which products do you use, what do you need once you're on the road etc, etc, etc; it's a minefield of choices and decisions!
For ExPix having a van is essential; it's part of us, one of the team and it has a job to do just like any of the crew. Over the years our vans have played a crucial role in getting the ExPix name and our guys out there. Travelling the length and breadth of the UK and Ireland and with regular trips across Europe too; the ExPix van has become a familiar sight at events and locations everywhere. Covering 9 countries in 2014 alone, the ExPix van played a vital role in placing our brand before a physical worldwide audience of over a million people. For us our van is not just transport, its home on the road, a mobile office, it's a meeting place, a portable cinema, it's a room with a view and for the cold and needy it's meals on wheels!
As the demand for van conversions continues, endless possibilities and lifetimes of opportunities will undoubtedly increase. No more stereotypes; what lies hidden behind the doors of the van is just a dream away!