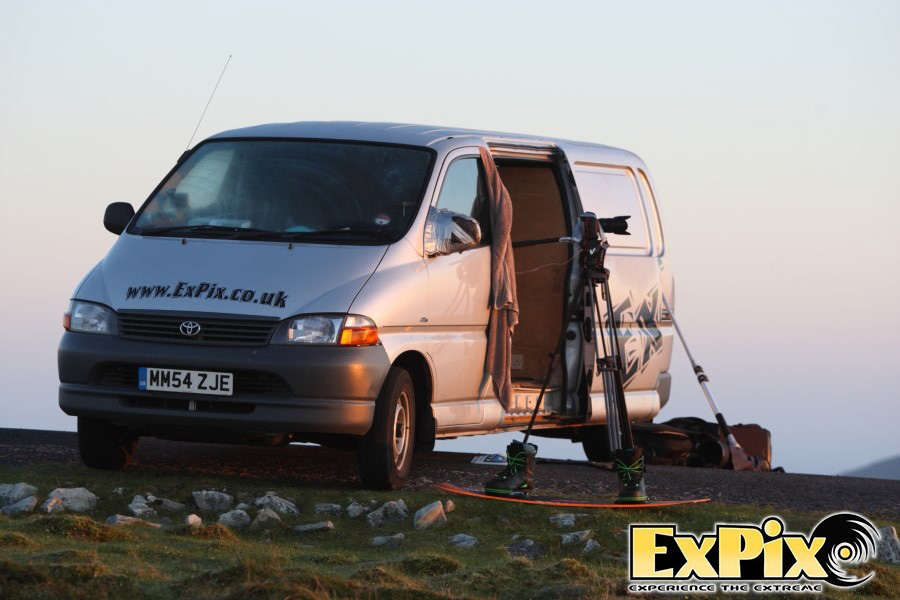 When we bought our new Toyota HiAce van, people in the extreme sports industry laughed at us; it wasn't a VW, it wasn't a Sprinter; it just wasn't cool!
But with over 235,000 miles on the clock who's laughing now!!!!!!!!
Making the decision to buy the HiAce was easy; we'd had a Toyota LiteAce van before so we knew the quality and could trust the reliability. And at approximately £10,000 cheaper than its competitors, it was a no brainer.
After a quick temporary conversion to add office space and living accommodation in the back; the ExPix Toyota HiAce van has been a familiar sight at extreme sports events and spots around Europe and the UK.
But now after 12 years the old girl is looking tired.
So we're planning a makeover; a complete redesign inside, and some serious 'tarting up' on the outside; in short we want to turn the old girl into a 'classic van'.
Even after the 12 years, the van still runs like a dream. She's been serviced regularly and apart from routine repairs and maintenance work, has never been a problem. Given the mileage that we've done up hill and down dale, the places we've been, from the Hebrides on the edge of Europe to Northern Spain, from Ireland to Germany, and all around the UK, and the elements that we've put her through, sand, sea water, etc, etc, etc; it's nothing short of a miracle!
On the mechanical side, we've recently replaced the brake pads and discs, have changed the rear shock absorbers and side door rollers and have added a new door storage pocket for the passenger side. There's still a bit more maintenance and repair work to do which will be ongoing; put in new lock barrels, before we're locked out completely, replace the electric window switch, sort out the break pipes and a host of other mechanical stuff too technical to mention here, but for now at least, she's passed her MOT and is road worthy.
As for the living space in the rear of the van, well that was only ever meant to be temporary. But when you're on the road as much as the ExPix crew are, finding the time to replace it has been difficult to say the least. But with things looking more than just a little tired, we're finally getting round to doing the conversion properly!
After being on the road for so long and seeing tons and tons of van conversions, we've picked up numerous tips and ideas that we think we can utilise when designing our ideal mobile base station. There will still be compromises though, as we believe that one vehicle doesn't always fit all. But that said we're hoping that this conversion will be as close to offering us what we need when working away from the office.
There's a whole host of companies out there who will convert your van for you, but we've decide to do the conversion ourselves. We want to show what can be done by the 'average Joe' and what the pros and cons are of doing a DIY job.
We'll be documenting the makeover from start to finish and featuring every stage in the Van Life Blog so that good or bad, you can share the experience with us. And we'll be sharing some tips on how to get round those tricky bits too.
We've been really lucky in that we've got some great companies on board to help us with the project; Dometic, T & A Upholstery Supplies and Plyline UK, and throughout the transformation we'll be bringing you the low down on all the fantastic products that these guys produce.