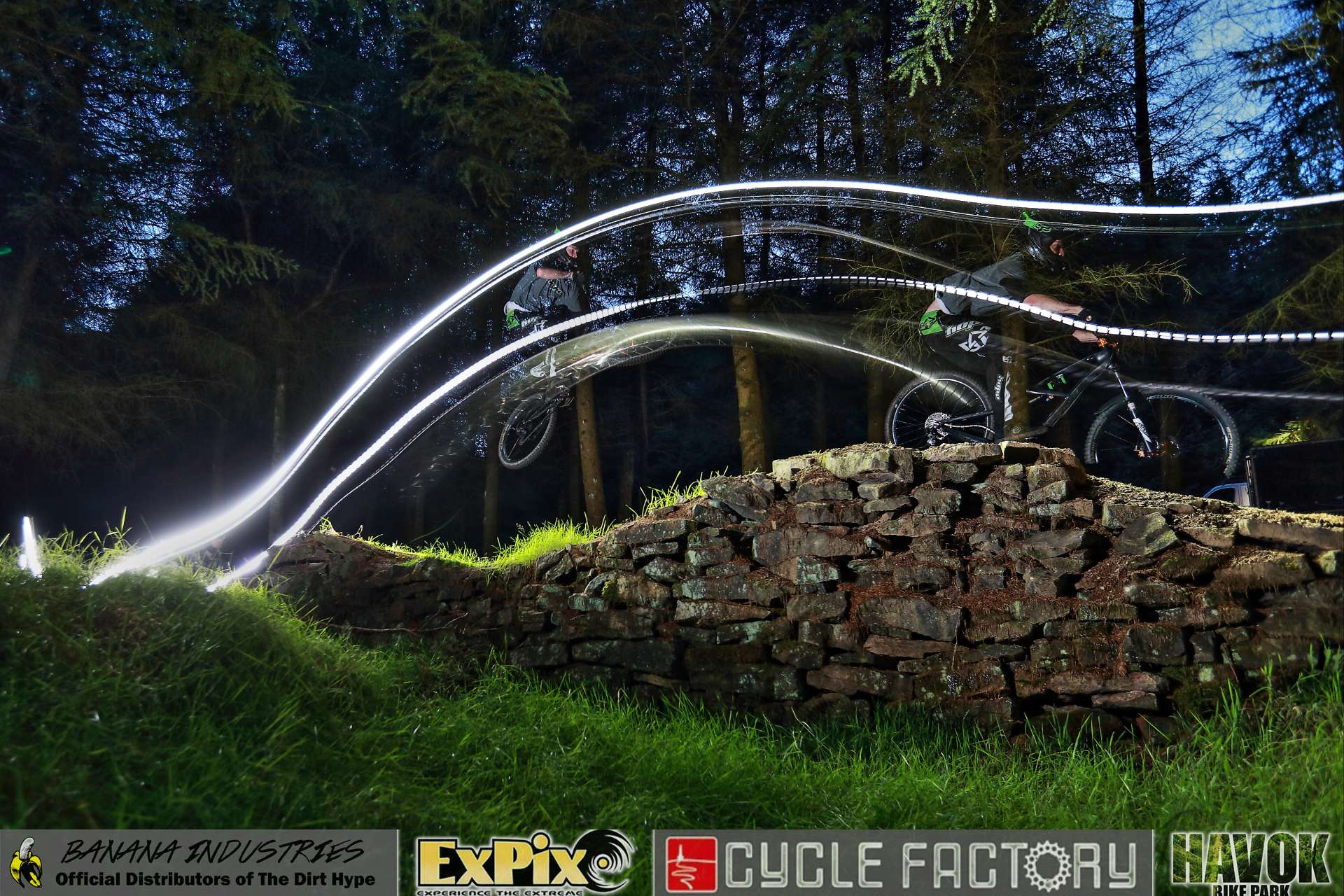 Some say it's grim up North, but they obviously haven't visited the Pennines and they definitely mustn't have been to Havok Bike Park. Nestled into the Cock Hill Woods in Todmorden, West Yorkshire, Havok Bike Park is a hidden gen. With stunning scenery, and hospitality second to none; let's just say the ExPix crew were more than happy to be spending the August Bank Holiday there for Havok's Summer Sessions 3 event!
Set over 3 days with the Race Day sandwich in-between, Saturday was given over to practise sessions on the downhill lines in preparation for the Reunion Race on the Sunday. With the track feeling a tad greasy and with mud on the ground, no one was in for an easy ride. The table top saw some action too as riders honed their skills ready for the Whip Off Comp later that day.
For the more experienced rider it was chance to test their nerve on the free ride runs. And if you're wondering what all the fuss is about, then you need to take a look at these runs; they are 3 of the most bad ass runs you're ever likely to come across in the UK. Nowhere on these runs can you cut a break, it's just hit after hit of relentless mental and physical torture. Wall rides, big doubles and gap jumps; you name it and the Havok freeride runs have it in abundance and none more so than the Valhalla Freeride; even walking this line is scary!
After negotiating the difficult camber on the narrow wooden backbone, you start Valhalla with a 'Big Drop In', around a 6m beast of a drop that propels you into the course. And if you've managed to stay on, and have avoid the trees, 'cos "trees don't move"; you'll then be hurtling at lightning speed into the infamous, Havok Gap. And that gap is BRUTAL!
Whilst the drop at 5m+ isn't quite as big as the 'Big Drop In', the 7m+ gap is fecking crazy!!!!!!! We saw many a rider walk to the end of the jump before shaking their heads and walking away. And after walking it ourselves, we know where they're coming from; it turns your stomach like no seasickness ever will.
Not put off by any of this, Ian Forsyth earned himself one well deserved celebratory beer when he became the first person of the weekend to nail a 'Suicide' off the Havok Gap. To celebrate he then decided to Nack it. Talk about buzzing, we didn't need the wind turbines nearby, the air was already electric!!!!!!
And whilst it may have been beaten by Ian Forsyth; rattled by his success, Valhalla took its fair share of victims over the weekend.
Back to the downhill course and the Whip Off Comp got underway, providing some good quality action for spectators and photographers alike. Once again nerve and experience won through with those daring to push it getting the results.
After a final practice session in the morning, racing got underway at midday on Sunday, with around 38 racers in several categories. Using a modified red trail, the Havok team sent the riders down the course heading towards our various viewpoints. Changing positions after every 5 riders to make sure we got as many angles as possible, it wasn't so bad going down the course but on the way back up it proved gruelling for our cameraman! AS for the riders; the less experienced picked their way through the technical sections whilst the faster guys just sailed over the top - not for the faint hearted. With one crash being removed from the track for precautionary measures and several losing their footings, the track seemed to claim its own back for having been ridden so hard. Stand out racer Ian Forsyth, with a time of 1.45.96 was almost 5 seconds faster than his nearest rival in the Senior category, earning him the fastest run of the day. But pulling in a time of 1.46.56, Junior rider Alex McQueenie was biting at his heels for the course title. In the Womens category the margins were narrow with Ami Grindley managing to pip Katie Purvis by just over a second. Full results and times are below.
With such a buzz in the air and riders still pumped, the freeride section took some more hits including a session in the dark using headlights for Jim Simmonds. Check out the intro images to see the cracking double image on the lower table top above the wall ride!
Whilst the racing might have been over, Sunday evening and Monday brought with it its fair share of action. No female rider had attempted the freeride lines before, but the girls at Summer Sessions 3 were having none of it. Ami Grindley, a first timer at Havok, was the first to give The Enticer Freeride a go on Sunday evening. Cath Davidson was up next on Monday, and after plucking up every ounce of courage she had, Ness Paul got in on the action too; all 3 scoring themselves some pretty sweet photos for their efforts.
And it seems that having ExPix there giving away all the images to riders was enough to see everyone pushing themselves on Monday; there were so many people 'sending it', Royal Mail must have been on over time!
A wicked Bank Holiday weekend was had by all at Summer Sessions 3; a fantastic event, amazing people and awesome riding at a top quality venue.
If you're into MTB and haven't been to Havok Bike Park before, you should. But be warned; if you live south of Cheshire you may need a lesson in 'Northern' first. We suggest starting with Peter Kay's 'Has tha nowt moist?' followed by Hale and Pace's – Yorkshire Airlines! (Google it!)
Results and links to all the images from the weekend are below.
To download the images click on the icon highlighted by the arrow in this image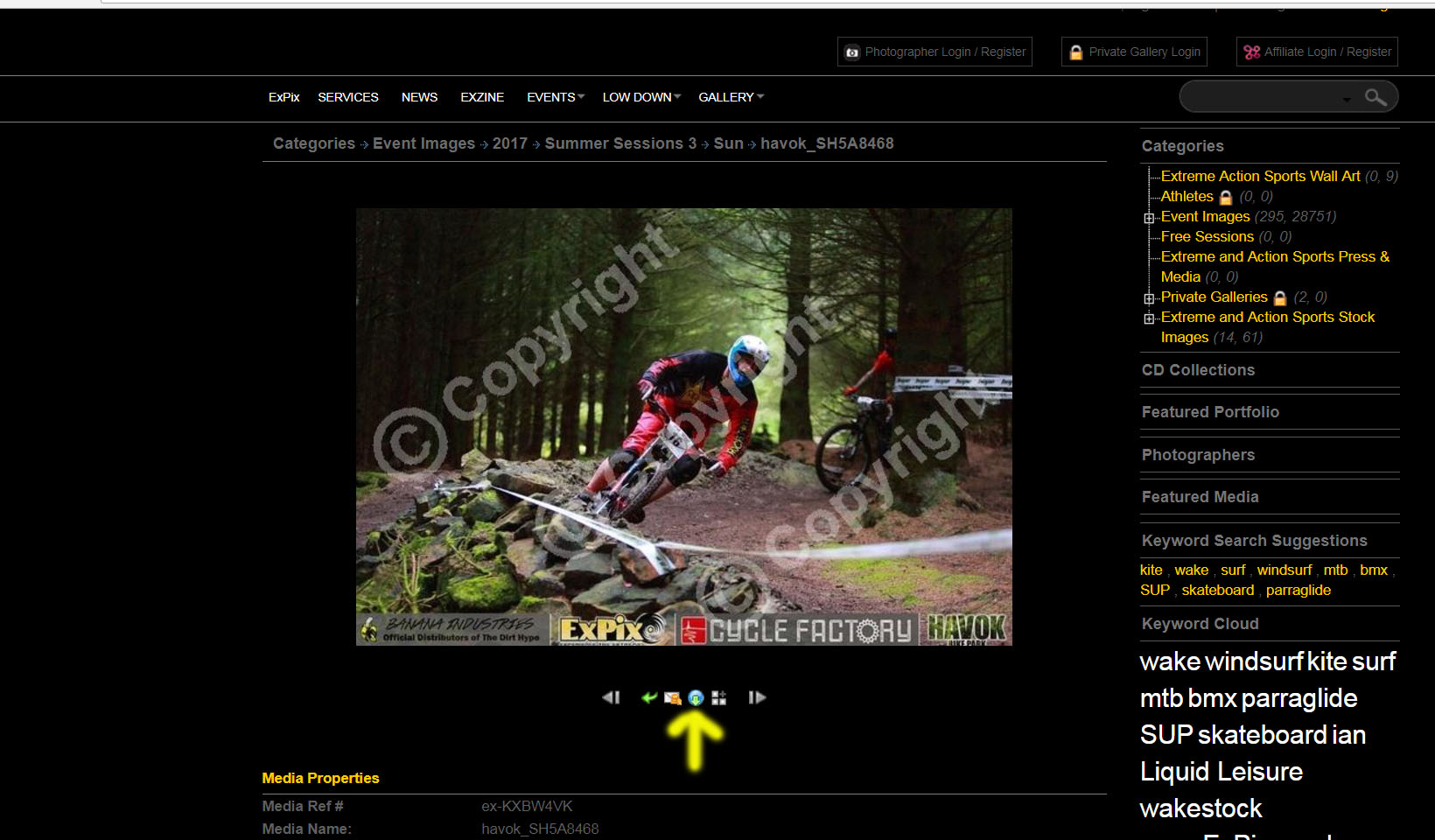 Havok Bike Park Summer Sessions 3 Images
Reunion Race Results:
Juvenile
1. Michael Spence – 2.13.57
2.Travis Ridout – 2.37.50
Junior
1. Alex McQueenie – 1.46.56
2. Alfie Ridout – 1.54.81
3. Tommy Stott – 2.06.20
Youth
1. Joe Whitham – 2.04.92
2. Jibril Haq – 2.24.27
Senior
1. Ian Forsyth – 1.45.96
2. Mathew Woodhall – 1.50.69
3. Reuben Ashworth – 1.50.80
4. James Petit – 1.51.09
5. Milton Ashworth – 1.51.70
6. Nick Cook – 1.53.98
7. Joe Harvi-Gall – 2.01.80
8. Scott Talbot – 2.02.08
9. Rob Stratton – 2.02.65
10. George Newhouse – 2.06.09
11. Cameron Bowman – 2.06.70
12. Lee Evans -2.13.30
13. Jocob Minsall – 2.17.98
14. Adam Whitacker – 2.26.71
Masters
1. Lee Langley – 1.52.60
2. Sam Matthews – 1.56.28
3. Matt Kebel – 2.0.40
4. Phil Ryan – 2.02.10
5. Stephen Matthews – 2.10.39
6. Daniel Grindley – 2.15.04
7. Jim Simmonds – 2.17.26
Veteran
1. Sam Gibbons – 1.48.15
2. Craig Hope – 2.06.79
3. Anthony Ridout – 2.07.19
Grand Vet
1. John Ridout – 1.57.86
Womens
1. Ami Grindley – 2.14.04
2. Katie Purvis – 2.15.29
Havok Bike Park Carr Road, Todmorden, Yorkshire, OL14 7ER Open Times Sat & Sun 10:00 – 17:00 http://www.havokbikepark.com/
Save
Save
Save
Save
Save
Save
Save
Save
Save