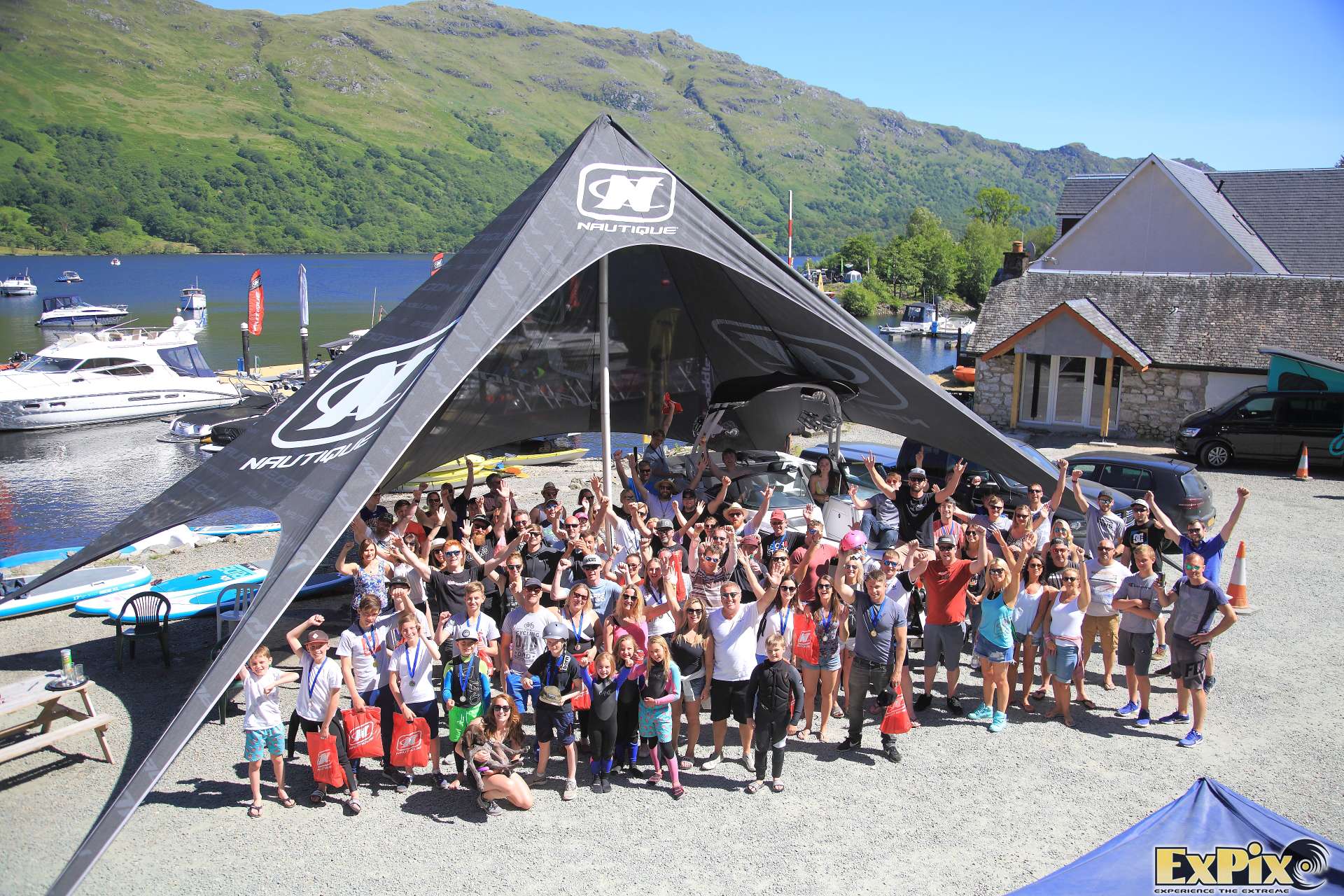 Sun, sunglasses and shorties; one word sums up the Loch Stock 2018 weekend……. Scorchio!!!!!!!!
The temperatures were high and so too was the atmosphere. As Scotland basked in unprecedented heat, wakeboarders flocked to Loch Lomond Wakeboard, Ardlui, for Loch Stock 2018 and Round 2 of the Scottish Wake Series.
Pre competition coaching was provided by pro wakeboarder, Matt Crowhurst onboard the Super Air Nautique G23 on Friday and Saturday, giving everyone the chance to ride the awesome wake ahead of the main event. There was also a development session where junior riders take to the water with a pro rider to learn new tricks. Tony Evans took the riders out behind a G21 and for some the extra height proved just what they need to stick their tricks.


The infamous Loch Stock party was held on Saturday night at the Ardlui Hotel, and as always, Master Shafter got the crowds rocking.
Sunday morning and the competition got underway. With the sun belting down and no wind or rain in sight, the conditions were near perfect for the riders.
Rockin Vans and their community of campervan lovers had set up camp on the banks of Loch Lomond with crowds of spectators joined them around the Ardlui Lodges.
A great day was had by all on and off the water with the event coming to a close with Prize Giving later in the afternoon.
Check out some of the highlights and images below
Results:
U12
1. Orla Winn
2. Bruno Bolzicco
3. Murray Holmes
U14
1. Ethan Burns
U16
1. Theo Youngman
Rookies
1. Jack Burns
2. Rachael Bamford
3. Wendy McDougall-Kirk
Masters Ladies (30+ years)
1. Julie Doncaster
2. Shona Macleod
Masters Men (30+ years)
1. Ross McKinnon
2. Andrew Cruickshank
3. Jamie Adams
Open Ladies (16 – 29 years)
1. Alex Stuart
2. Cari Wilson
Open Men (16 – 29 years)
1. Tony Evans
2. Robin Coates
3. Jamie McKay
Scottish Wake Series – Remaining Rounds:
Round 3 – 11th August - Foxlake Adventures Dunbar
Round 4 - 1st September - Foxlake Dundee
Round 5 - 23rd September - Glasgow Wake Park
For More Info about Wakeboarding in Scotland Check Out: