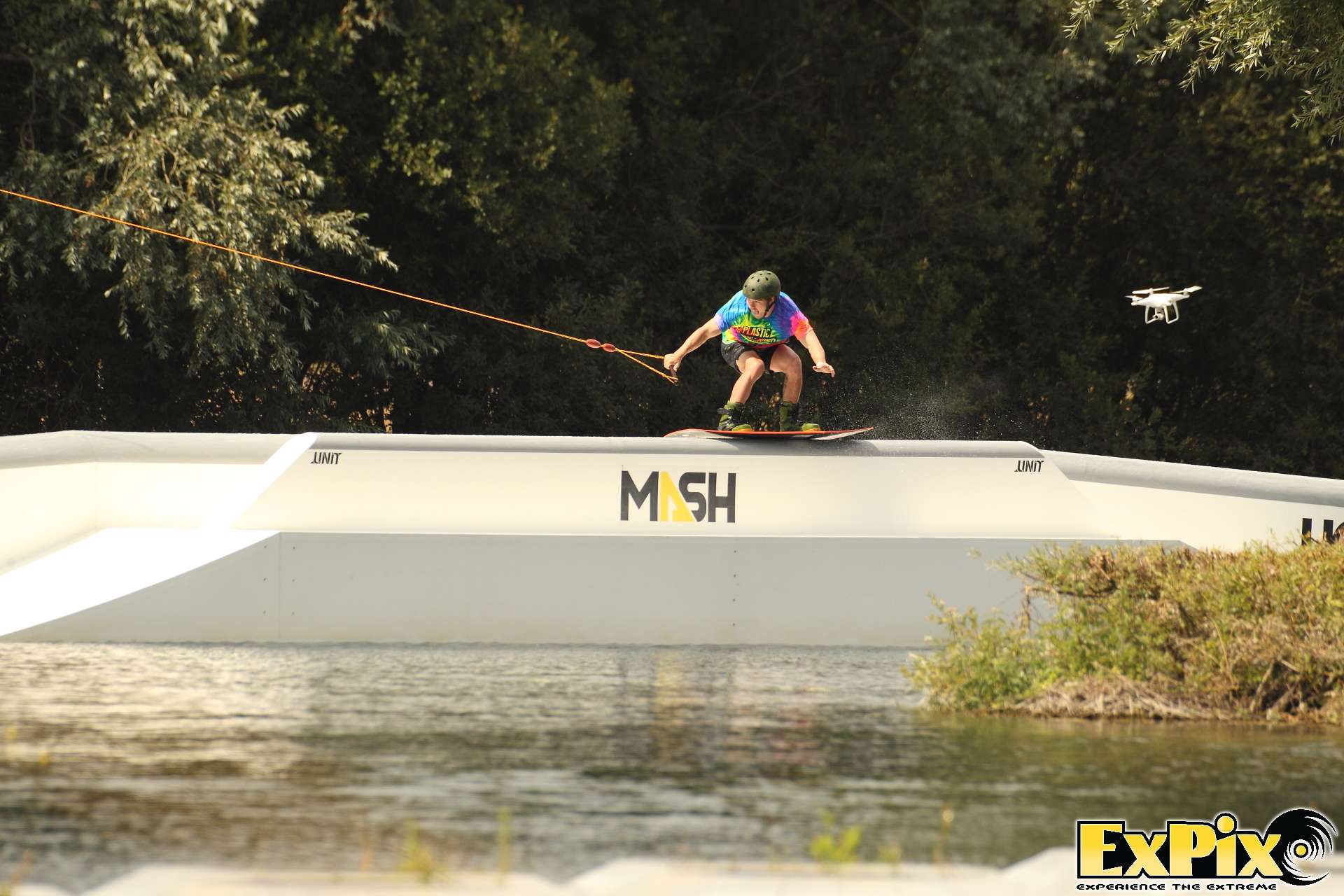 There's only one word to describe Stop 2 of the 2018 Plastic Playground Wake Park World Series……..INSANE!!!!!!!!!!
The level of riding was off the scale and with over a 120 riders competing, 74 of which rode in the Pro Men wakeboarding category; this has to be one of the hardest events we've ever had to photograph. Nearly 10,000 images later and the ExPix team were going gaga editing them all!
Now in its 5th year, Plastic Playground has grown from a one stop event to a world tour, taking in Thailand, UK and Bali. With a prize fund of $150,000, it's easy to see why it attracts the very best that cable wakeboarding has to offer.
Back to the comp and the ExPix crew were on site at Liquid Leisure Watersports Complex late Tuesday evening, ready to capture the pre event free riding on the cable which started early Wednesday morning. With 20 obstacles tightly packed in on the Plastic Playground competition course, there was no room for error on the lake. For many the course looked daunting. Working out their lines ahead of the heats was essential and had riders queuing to get in much needed practise sessions.
Thursday morning saw another early start as Junior Plastic Round 1 got underway. 30 international and UK riders took part in 6 heats. Whilst it might have said juniors in the title, there was nothing junior about the level of riding; these kids were sick! Let's just say there were a few worried faces from the Pro Men riders as they faced the possibility of competing against some of these junior riders in the Pro Men category. The top scoring two riders of each heat went through to the Junior Head to Head Quarter Finals. The rest had one final opportunity in the Last Chance Qualifiers (LCQ), with both these and the Quarter Finals being held on Friday. Loic Deschaux, Kieren Owens, Parker Swope, Enzo Asseraf and Jadon Scures looked to be killing it with strong and stylish riding.
The Pro Men Heats Round 1 followed the Juniors and they too pulled out all the stops. With so many riders and only the first two automatically qualifying, there was no time to loose, sending it was the only way, and send it they did! Junior riders Jadon Scures from USA, and UK's Kieran Owens proved that the Pro Men riders were right to be worried as they beat off their competitors to make it through to Round 2.
A decision not to run LCQs for the Pro Women proved controversial and meant that to make it through, the girls had to be sure that they were in the top 2 of their heats. Anna Nikstad, Elena Bodi Lopez, Taylor McCullough, Maryh Rougier, Luca Victoria Glinski, Jamie Lopina, Hodaya Duek, and Sanne Meijer made it through to the quarter finals and a chance to bag themselves a place in the semi-finals where they would come up against automatic qualifiers, Maxine Sapulette, Claudia Pagnini, Elizeveta Pruzhanskaya and defending champion Julia Rick. Anna Nikstad looked on top form with some technical rail riding, whilst Pruzhanskaya and Liquid Leisure newbie, Rougier, found their flow and looked like strong contenders to go further in the comp.
The day's action finished with the Pro Men LCQs and as ever the riders were pushing harder and taking more risks which made it great for the spectators on the bank. Junior rider Mikayo Mundy from Australia made it through alongside, Florian Weiherer, Stefan Hahn and James Masterson.
The Pro Men Heats Round 2 kicked started Friday and as with Round 1, it was action packed. 40 riders had to be whittled down to just 16 and the pressure was on. Peacock, Kapl, A Constable, Tremmel, Patry, Weiherer, Firer, Jack Battleday, Gnerlich, Dreiling, J Harris, Muncey, Schafers, Caldas, Balsa, Salmon and Greer held their nerve making through to the H2H.
Next up were the Pro Women for their Head to Head Quarter Finals with the format as follows: Taylor McCullough v Luca Victoria Glinski, Hodaya Duek v Maryh Rougier, Elena Bodi Lopez v Sanne Meijer, Jamie Lopina v Anna Nikstad. McCullough took the round with a strong heat. Steezing it out on the rails she was too stylish for Glinski. Rougier was really going strong again relishing the new layout at Liquid and took the round over compatriot Duek. Sanne Meijer absorbed the pressure from Lopez who made a few mistakes and also went through. The big heat in this round was going to be Lopina v Nikstad. Lopina a previous winner couldn't faze Nikstad, who had previously had a 2nd and 3rd at Plastic Playground, and was riding was exceptionally well under pressure. Nikstad didn't put a foot wrong, tweaking everything just that bit further than in previous heats and she took the win to make it through to the Semi Finals.
Pro Men Head to Head Round 1; now it was really getting serious! With 2 rounds already behind them and the chance to go through to the Quarter Finals, the battles became not just skilful but psychological. The quarter finals would see the entry of the seeded riders so it was all to ride for. Dreiling looked strong, whilst local hero's Muncey and Peacock had the crowds cheering for the two remaining Brits who managed to grab themselves places in the Semi's. Joining them were Lerchenfeld, Klang, Dunn, Gunn and Hernler.
After spending time at the ExPix stand throughout the day, studying their images, the Junior riders had a better understanding of what they'd done right or wrong in their previous heats. It was great seeing these guys, who represented 8 or so countries, coming together to support and encourage each other. Analyses over and it was time to put into practise the improvements as the LCQs and Junior Head to Head Quarter Finals got underway.
Saturday was finals day and tension grew as the crowds gathered and riders prepared themselves for the task ahead.
Competition had been fierce and the 16 riders had fought hard to make it to the Pro Men Head to Head Quarter Finals. But they had to draw deep and to pull out all the stops once more if they wanted to make it through to the 4 Man Super Final. Nico von Lerchenfeld, Busty Dunn, Matty Muncey and Aaron Gunn all managed to wipe aside their competition as they progressed to the semi's to meet, Klang, Dreiling, Hernler and Peacock.
After two days of competitions, the final eight Junior Riders got to perform in front of crowds on the lake banks at Liquid Leisure and the thousands watching the live stream. Pierce Bishop – USA took on Enzo Asseraf – FRA, with Enzo taking the win. Max Cuckney – UK was knocked out by Loic Deschaux – FRA. Parker Swope – USA beat Jadon Scures – USA and Mikayo Mundy – Australia triumphed over Kieran Owens. France were guaranteed a podium spot with two riders whilst USA and Australia would be hot on their heels in the Junior SUPER FINAL. After winning the 10 - 13 category in 2016 and finishing fourth in the newly formed Junior Plastic category in 2017; Loic Deschaux from France was stoked to take the win at Plastic Playground 2018. Joining him on the podium were Parker Swope in second place and Enzo Asseraf in third.
The Pro Women Semi Finals and Super Final were up next and the battles continued. In the Semi Finals McCullough probably had the toughest round being drawn against the ever consistent and super strong Julia Rick. With a bag of tricks a lot of men don't have, Julia powered her way into the SUPER FINAL. Rougier, loving getting so far at the first attempt; threw caution to the wind and advanced over Claudia Pagnini who had taken a big fall earlier that day. The Russian rider Pruzhanskaya had more variation and style and never looked in trouble against Dutch rider Senne Meijer. Nikstad really was riding well and put the pressure on Sapulette who just couldn't find her rhythm and conceded to the American.
So it was down to the last 4 remaining Pro Women; Julia Rick, Maryh Rougier, Elizeveta Pruzhanskaya and Anna Nikstad to fight it out for the Plastic Playground London title. After a long journey, where staying calm and keeping control were the order of the day, it was a well-deserved win for Ann Nikstad. Defending champion, Julia Rick took second place with a very happy Maryh Rougier making her Plastic Playground podium debut in third.
Nico von Lerchenfeld – Germany v William Klang – SWE, Busty Dunn – Australia v John Dreiling – USA, Matty Muncey – UK v Dominik Herneler – Austria, Aaron Gunn – Australia v Liam Peacock – UK was the running order for the Pro Men Semi Final. Gunn was looking super techy on the rails, Hernler as always stylish, chose extremely clever lines, whilst Dunn and Lerchenfeld were consistent and good in the air bagging themselves a place in the Pro Mens Super Final. With a crazy level of skill the spectators were treated to a display of rail riding never seen before on the custom Unit hacks. With a course built purely for the competition it would be hard for the judges to pick the winner especially as the course lent itself to a variety of styles. with numerous lines to pick. In the end Aaron Gunn took his third successive Plastic Playground title in the Pro Men. There was a return to the podium for 2015 winner Dominik Herneler who took second place and a first podium place for Busty Dunn in third.
Throughout the day there were displays by the Squibb Freestyle FMX team. Then as the action on the water finished, the premiere of Ice Cream 1.5 movie brought the crowds together ahead of the presentation.


Or view a selection below

Results
Below each set of results is a gallery of the riders from each category. A full set of images for each rider are being added to our gallery section now (18/7/18) and should be live very soon.
Pro Men
1. Aaron Gunn – Australia
2. Dominik Herneler - Austria
3. Busty Dunn - Australia
4. Nico Von Lerchenfeld – Germany
Pro Women
1. Anna Nikstad – USA
2. Julia Rick – Germany
3. Maryh Rougier – France
4. Elizeveta Pruzhanskaya – Russia
Junior Plastic
1. Loic Deschaux – France
2. Parker Swope - USA
3. Enzo Asseraf – France
4. Mikayo Mundy - Australia
The 3rd and final Stop of the Plastic Playground Wake Park World Series will be held at Bali Wake Park on 27th October 2018.